Evangelical Scholar Releases "Signs of the Messiah: An Introduction to John's Gospel"  
Andreas J. Köstenberger Provides Insight on Signs, Plot and Messages in the Gospel of John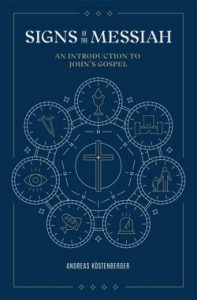 BELLINGHAM, Wash., April 15, 2021 – Andreas J. Köstenberger, Evangelical scholar, Research Professor of New Testament and Biblical Theology, and Director of the Center for Biblical Studies at Midwestern Baptist Theological Seminary, provides a step-by-step journey through John's unfolding narrative of Jesus the Messiah and Son of God in his new book from Lexham Press, "Signs of the Messiah: an Introduction to John's Gospel."
The book takes a theological deep dive into the life of Jesus from the Gospel of John, noting the many times He was asked for signs proving Him as Messiah. Köstenberger explores the seven signs Jesus gave throughout the book of John and why even with these miracles there was unbelief.
"John's point is that people's unbelief was their own fault. The problem was not that God, through Jesus, failed to provide tangible evidence that he was real. No, the problem was that people asked for signs, but when Jesus gave them a sign, they didn't like the one he gave them and kept asking for more," writes Köstenberger. "He fed the multitudes, he healed the sick, he even opened the eyes of a man born blind—and for an encore, he raised a dead man whose body had been in the tomb for four days. The core message of John is that Jesus is the Messiah, the Son of God. My hope and my prayer for you is that you might believe Jesus is the Son of God and find eternal, abundant life in him."
"Signs of the Messiah" originated as a series of "For the Church Workshop" lectures Köstenberger gave at Midwestern Baptist Theological Seminary at the invitation of the school's President Jason Allen.  When read in unison with the gospel of John, "Signs of the Messiah" further illuminates the core message of John and ultimately helps readers trust more fully in Jesus.
"It was Ernst Käsemann who said that the Gospel of John is shallow enough for a baby to wade in but deep enough for an elephant to drown. Andreas Köstenberger has been swimming in the deep end of the Johannine pool for a long time, and it shows in this easy-to-read guide to the theology of the Fourth Gospel, a theology of an eyewitness of Jesus himself," said Ben Witherington III, Amos Professor of New Testament for Doctoral Studies at Asbury Theological Seminary. "Students and pastors alike will gain new insights into this crucial telling of the good news."
To purchase now and learn more about "Signs of the Messiah," visit  https://lexhampress.com/product/197331/signs-of-the-messiah-an-introduction-to-johns-gospel.
About Lexham Press
Lexham Press, a division of Faithlife, seeks to increase biblical literacy, thoughtful Christian reflection, and faithful action around the world by publishing a range of Bible study materials, scholarly works, and pastoral resources. For more information, visit https://lexhampress.com/.
About Andreas J. Köstenberger
Andreas J. Köstenberger is a research professor of New Testament and biblical theology and director of the Center for Biblical Studies at Midwestern Baptist Theological Seminary. He has written numerous books, including "The Theology of John's Gospel and Letters," "Encountering John" and "The Cradle, the Cross, and the Crown: An Introduction to the New Testament."