The size of your stature is not the measure of your heart. For one tiny Dachshund, this was a mighty big lesson.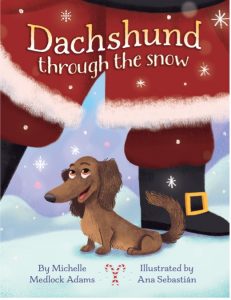 Nashville, Tenn., October 2021 – Bestselling and award-winning children's author Michelle Medlock Adams and beloved illustrator Ana Sebastian team up to bring children Dachshund Through the Snow (End Game Press, October 12, 2021), an adorable holiday story with a heartfelt message.
Dachshund Through the Snow tells the story of Crosby, a teeny-tiny dachshund who's known for his size but wishes he were known for his many talents. When his entry to the Arctic Olympics, where he plans to compete to make a name for himself as the top burrower, goes terribly wrong, he frantically burrows away. He burrows so fast and so hard that when he finally comes up for air, he realizes he's caught in a snowstorm—the same storm that's left Santa and his reindeer stranded and desperate for Rudolph's bright nose to guide them home. If only they could get to Rudolph.
The perfect dog for the job, Crosby springs into action and burrows all the way to the North Pole to alert Rudolph of the situation at hand. The two fly back to the cave, rescue Santa and the stranded reindeer, then jet off to save Christmas. When Crosby wakes up on Christmas morning wondering if it was all a dream, he notices a gift from Santa—a gold medal praising him for his ginormous heart and a note thanking him for saving Christmas.
Dachshund Through the Snow is a beautifully illustrated, sweet reminder that it's what is on the inside—in our hearts—that really matters this Christmas. The book was recently awarded the prestigious 2021 Firebird Book Award in the Holiday category. 
Michelle is available for interviews on topics including:
October: National Bullying Prevention Month
How to talk to your kids about the true meaning of Christmas
The big lesson our kids can learn from a tiny Dachshund
Meaningful ideas to connect with your kids this Christmas
Why sometimes the best things come in small packages
It's what's on the inside that really counts
In conjunction with an educational expert, Michelle has created a packet of free lessons and companion activities for elementary school teachers, librarians, and homeschoolers. The packet can be downloaded HERE.
Michelle Medlock Adams is a New York Times bestselling ghostwriter, bestselling author of more than 100 books, and an award-winning journalist of more than 80 industry accolades, including top honors from the Associated Press, the Society of Professional Journalists and the Moonbeam Children's Book Awards, to name a few. She is President of Platinum Literary Services, a premier full-service literary firm; Chairman of the Board of Advisors for Serious Writer, Inc.; an online instructor for the Serious Writer Academy; and a much sought-after speaker at writers' conferences and women's retreats all over the United States. When not working on her own assignments, Michelle ghostwrites articles, blog posts, and books for celebrities, politicians, and some of today's most effective and popular ministers. Michelle is celebrating the recent release of her newest children's book, Dachshund Through the Snow (End Game Press). To learn more, visit www.michellemedlockadams.com or connect with her at INwritergirl on all social media platforms.
Media Contact: Shanon Stowe, shanon@iconmediagroup.com