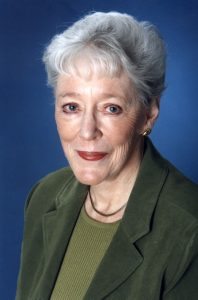 Ada, Mich. (May 30, 2023)—Baker Publishing Group honors the legacy of Mrs. Elizabeth Sherrill, who passed away Saturday, May 20, 2023. Elizabeth and her husband, John, who died in 2017, launched Chosen Books in 1970.
A faithful follower of Christ and servant to many, Elizabeth responded to John's idea of beginning a publishing company with, "Why not? It would be fun."
Corrie ten Boom's bestselling memoir, The Hiding Place, first published in 1971, was co-written by Elizabeth and John with Corrie herself. The book continues to reach generations today with sales surpassing 3.5 million copies and climbing.
Elizabeth was a supremely gifted writer and editor who produced more than 30 books and 2,000 articles throughout her lifetime. Ever the wordsmith, she brought to life the stories of David Wilkerson (The Cross and the Switchblade), Brother Andrew (God's Smuggler), and George G. Ritchie (Return from Tomorrow).
In its earliest days, Chosen Books operated out of a refurbished Quaker schoolhouse in Lincoln, Virginia. Eventually, in 1992, it was acquired by Baker Publishing Group. Jane Campbell, now-retired editorial director of Chosen, worked closely with Elizabeth and remembers, "Elizabeth was a Christlike model of a writer-editor who was fastidious and top-notch in her work, yet unfailingly kind and gracious in her relationships."
In May 2018, the ECPA presented to Elizabeth the Kenneth N. Taylor Lifetime Achievement Award in recognition of Elizabeth and John's contributions to Christian publishing and global impact for the cause of Christ.
Chosen Books continues to publish 30 new titles a year under the leadership of publishing veteran Kim Bangs, editorial director since 2021. Kim acknowledges her team is standing on strong shoulders and wholeheartedly agrees, "Yes, Elizabeth, it is fun."
Chosen Books, a division of Baker Publishing Group, publishes well-crafted books that recognize the gifts and ministry of the Holy Spirit and help readers live more empowered and effective lives for Jesus Christ.
Contact: Deirdre Close, (952) 829-2529, dclose@bakerpublishinggroup.com