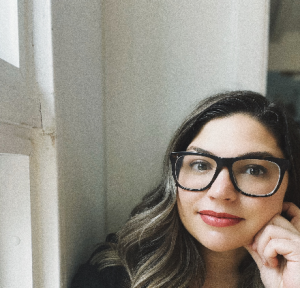 Ada, Mich. (May 23, 2023)— Baker Books, a division of Baker Publishing Group, is pleased to announce it recently signed a two-book deal with Erin Moon, the resident Bible scholar on The Bible Binge podcast and creator of the popular Substack newsletter The Swipe Up.
Her first book, scheduled for release in early 2025, is tentatively titled I Have Questions. The book will be for readers who feel the disenchanting divergence between God as he says he is and cultural Christianity. Through a compassionate and curiosity-friendly framework, they will discover how to reconstruct a Jesus-centered spirituality that is strong and authentic enough to sustain the weight of living in our complex world today.
"When I went through my own experience of disentangling the spirituality of my youth, I desperately wished for a guide to help me make sense of the rubble around me," said Moon. "I am delighted to partner with Baker and offer a way forward for those who desire to transform the fear and trembling of childhood religion into the wonder and curiosity of a grown-up faith."
Moon is represented by agent Jonathan Merritt with the Christopher Ferebee Agency.
"Erin is a trusted voice and a gifted community-builder who has never shied from asking real questions, and this book speaks to the heart of the questions that matter most to her readership," said Stephanie Duncan Smith, senior editor, Baker. "Baker Books is honored to partner with her in her highly anticipated traditional publishing debut."
Erin Hicks Moon is a writer, podcaster, and storyteller who helps people disentangle faith by creating kind and curious communities that welcome honest doubt and pressing questions. She's the Resident Bible Scholar on The Bible Binge podcast, where she uses her 20+ years of Bible study writing and editing experience to gently rebuke and hilariously re-teach what we did (and didn't) get in Sunday school. She's also the online mayor of her weekly newsletter and subscription community, The Swipe Up, as well as the writer of several Bible study guides. A displaced Texan in Alabama, there is a yellow queso-sized hole in her heart. Erin is married with three kids and an emotional support dog who needs his own emotional support.
Baker Books has a vision for building up the body of Christ through books that are relevant, intelligent, and engaging. We publish titles for lay Christians on topics such as discipleship, apologetics, spirituality, relationships, marriage, parenting, and the intersection of Christianity and culture. We also publish books and ministry resources for pastors and church leaders, concentrating on topics such as preaching, worship, pastoral ministries, counseling, biblical reference, and leadership. Learn more at www.BakerBooks.com.
Contact: Kelli B. Smith, (616) 676-9185 x394, ksmith@bakerpublishinggroup.com