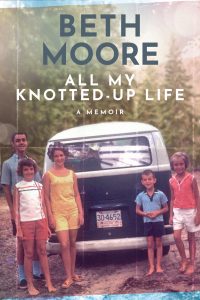 Carol Stream, Ill. (March 3, 2023) — All My Knotted-Up Life, Beth Moore's captivating memoir, which released on February 21, 2023, from Tyndale Momentum, quickly skyrocketed to bestseller standing. In its release week, the title debuted at #10 on the New York Times Best Sellers Hardcover Nonfiction list and #11 on their Combined Print & E-book Nonfiction list. Additionally, the title ranked #3 on the Publishers Weekly Bestsellers list in the Hardcover Nonfiction category and #4 on Wall Street Journal's Bestselling Books list for Hardcover Nonfiction.
In her greatly anticipated memoir, Beth Moore, beloved teacher, bestselling author, and founder of Living Proof Ministries, shares her never-before-told story to critical acclaim by Publishers Weekly, Library Journal, Kirkus, and Foreword Reviews alike.
All My Knotted-Up Life is Moore's reflective, heartbreaking, and humorous memoir, detailing her tumultuous childhood in Arkansas and Texas, experiences that impacted her youth and her call to ministry, her rise as an influential Bible teacher and national ministry leader, her life as a mother and wife, and the upheavals that led to dramatic and unforeseen changes in the life she had come to know.
An incredibly thoughtful, disarmingly funny, and intensely vulnerable glimpse into the life and ministry of a woman familiar to many but known by few, All My Knotted-Up Life is a beautifully crafted portrait of resilience and survival, a poignant reminder of God's enduring faithfulness, and proof positive that if we ever truly took the time to hear people's full stories . . . we'd all walk around slack-jawed.
Publisher Karen Watson shared, "With a tone similar to Rick Bragg's All Over but the Shoutin', Beth's wry observations and skill as a storyteller are on full display in this delightful memoir. She writes honestly and lovingly about the people and places and influences that turned a tiny, vulnerable little girl into the powerhouse of influence for the gospel that she has become. Readers will be captivated by the relatable and insightful story of her life."
Moore reflected, "I saw this life of mine going differently than it has. I saw myself turning out better than I have. I expected to have more riddles solved. More people sorted out. More grays dissolved to black and white. I needed neatness from God. What I got was a tangled-up knot."
Beth Moore is a New York Times bestselling author and teacher whose conferences take her across the globe. Beth founded Living Proof Ministries in 1994 with the purpose of encouraging women to know and love Jesus through the study of Scripture. She has written numerous bestselling books and Bible studies, including So Long, Insecurity; Chasing Vines; Breaking Free; and Now That Faith Has Come, as well as the novel The Undoing of Saint Silvanus.  In addition to her conferences, Beth can be seen teaching Bible studies on Living Proof with Beth Moore on the Trinity Broadcasting Network.  She and her husband of forty-four years live in Houston, Texas. She is a dedicated wife, the mother of two adult daughters, the grandmother of three delightful grandchildren, an active church member, and a dog-lover-to-the-death.
Since its founding in 1962, Tyndale House Publishers has been a voice to trust for generations of readers. Today, Tyndale is one of the largest independent Christian publishers in the world. Tyndale's mission is to make the Bible accessible to as many people as possible in language that they can relate and respond to. Tyndale publishes the Holy Bible, New Living Translation (NLT), and offers nonfiction books that equip readers with Christ-centered insight, counsel, and life-improving stories. In addition, Tyndale publishes fiction from fresh new voices and celebrated authors alike, capturing the imagination of millions of readers. With a deep understanding of the importance of nurturing future generations, Tyndale also publishes children's products that make God's Word and wisdom come alive. Tyndale's independent status allows it to follow its founding model, giving a majority of annual revenue—more than $110 million throughout its history—to charitable missions. With every book purchased, Tyndale readers help meet the physical and spiritual needs of people around the world.
For more information or for media inquiries, please contact Katie Dodillet, katiedodillet@tyndale.com.