Needed Guide for Gender Identity Issues Among Women
This is an important and well-researched book that remains wonderfully accessible. It begins. with contemporary controversies over recent gender theories, traces their history, places them in biblical perspective, and sets forth a better and more glorious vision of God's design of the natural body. If you're looking for a compassionate and convictional resource that shines light on the confusion of our times, this is where you should begin.
—Trevin Wax, vice-president of research and resource development at the North American Mission Board, author of The Thrill of Orthodoxy, Rethink Your Self, and Gospel Centered Teaching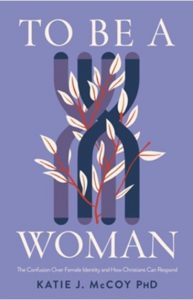 NASHVILLE, TN.—In her groundbreaking new book, To Be a Woman:  The Confusion Over Female Identity and How Christians Can Respond, author and women's ministry director, Katie J. McCoy PhD addresses a topic that is everywhere in the news – gender identity. We are living in a cultural moment where the definition of "woman" eludes the keenest of thinkers and brightest of scientists. In To Be a Woman, McCoy covers every angle, from social, philosophical, relational, biological, to theological, utilizing her extensive research, powerful illustrations, and solid Biblical truths to shed light on the views of gender in today's society.  To Be a Woman will quickly become a trusted resource for anyone who seeks to  understand  this complex topic.
"A generation of young women and girls have been swept away by the current of gender ideology, and we are only beginning to see its effects. Behind the headlines, social media campaigns, and political agendas are vulnerable, confused, and often hurting adolescents searching for what it means to be a woman. Only when we confront dominant cultural beliefs with the whole-person vision for humanity in God's image can we hope to turn the tide. " says McCoy.
In the case of gender identity, knowledge is power, and in her book, McCoy has fully equipped anyone from parents to family to teachers to youth workers.  From the beginning chapter, to glossary, to the extensive recommended reading list at the end, McCoy provides a clear and helpful guide to help so many that wonder how to think, respond, and react to the people around them. Readers will appreciate McCoy's thorough and sensitive  work on the topic of gender identity. To Be a Woman educates, but more than that brings faith and hope to a very difficult subject.
To Be a Woman by Katie J. McCoy PhD
B&H Publishing | ISBN13: 9781087784441 | June 6,  2023 | Softcover | 208 pages | $17.99
Katie J. McCoy holds a PhD in Systematic Theology, former seminary professor, and serves at Texas Baptists.  McCoy teaches and writes on the intersection of theology, culture, and women's issues, and has co-authored a work on the doctrine of humanity as part of the Theology for the People of God series (B&H Academic). Included among her research is discovering the pattern of justice for women in Old Testament laws. You can find Katie online at blondeorthodoxy.com.
B&H Publishing Group, an imprint of Lifeway Christian Resources, is a team that believes Every Word Matters®. We seek to provide intentional, biblical content that positively impacts the hearts and minds of people, cultivating lifelong relationships with Jesus Christ. We publish (print and digital) in the trade, church and academic markets, as well as the CSB translation.
Media Contact:  Jeane Wynn, 918-630-9695, Jeane@wynnwynnmedia.com