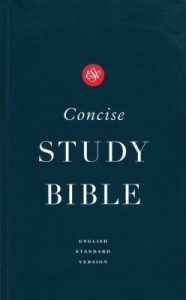 April 6, 2023, WHEATON, Ill.—Crossway is excited to announce that thirteen titles have been selected as finalists for the ECPA 2023 Christian Book Award in eight categories.
The finalists include:
ESV Concise Study Bible (Bible category)
In the Fullness of Time: An Introduction to the Biblical Theology of Acts and Paul by Richard B. Gaffin Jr. (Bible Reference Works category)
Scribes and Scripture: The Amazing Story of How We Got the Bible by John D. Meade and Peter J. Gurry (Bible Reference Works category)
Blessed: Experiencing the Promise of the Book of Revelation by Nancy Guthrie (Bible Study category)
Confronting Jesus: 9 Encounters with the Hero of the Gospels by Rebecca McLaughlin (Bible Study category)
Radically Whole: Gospel Healing for the Divided Heart by David Gibson (Bible Study category)
The Biggest Story Bible Storybook by Kevin DeYoung; illustrated by Don Clark (Children's category)
ESV Psalms, Photography Edition (Devotion & Gift category)
Songs of Suffering: 25 Hymns and Devotions for Weary Souls by Joni Eareckson Tada (Devotion & Gift category)
Strange New World: How Thinkers and Activists Redefined Identity and Sparked the Sexual Revolution by Carl R. Trueman (Faith & Culture category)
Keeping Your Children's Ministry on Mission: Practical Strategies for Discipling the Next Generation by Jared Kennedy (Ministry Resources category)
Workers for Your Joy: The Call of Christ on Christian Leaders by David Mathis (Ministry Resources category)
The Prince and the Blight by Kathryn Butler (Young People's Literature category)
The Christian Book Award® program recognizes the highest quality in Christian books and Bibles in twelve categories.1 Winners will be announced at the ECPA Awards Celebration in Nashville on May 9, 2023.
Founded in 1938, Crossway is a not-for-profit global Christian publishing ministry that publishes gospel-centered, Bible-based content to honor our Savior and serve his church. Crossway seeks to help people understand the all-encompassing implications of the gospel and the truth of God's word—for all of life, for all eternity, and for the glory of God alone. Crossway is the global publisher of the ESV® (English Standard Version®) Bible, more than 1,000 Christian books, and an extensive list of gospel literature. For additional information, visit crossway.org.
Contact: Lauren Susanto, lsusanto@crossway.org