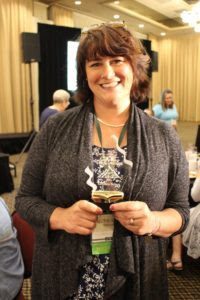 GRAND RAPIDS, MI – Christina Suzann Nelson, author of If We Make It Home: A Novel of Faith and Survival in the Oregon Wilderness, is the Oregon Christian Writers (OCW) 2017 Writer of Promise. The accolade was awarded at the Cascade Awards Ceremony on Thursday, August 17, in Portland, Oregon.
If We Make It Home has also been named by Library Journalas the September Debut of the Month in the category of Christian Fiction and received a starred review. The review notes that "Nelson's fiction debut is a tension-filled tour de force of suspense and human emotions. Fans of Cheryl Strayed's Wild and Jon Krakauer's Into the Wild will love this."
Regarding the OCW award and the Library Journal praise, Christina remarked, "I'm overwhelmed by the positive response I've received this past month. I've not only been blessed by the Writer of Promise award, but also by the people behind it who continually support and encourage me. While stories are written alone, successful books are the result of community."
If We Make It Home is a novel about three women who have embarked on a wilderness adventure and must work together to make it out alive. Each character is beautifully written, and the faith elements are woven in without relying on cliché.
Kregel Publications is an evangelical Christian publisher that aims to develop and distribute—with integrity and excellence—trusted, biblically based resources that lead individuals to know and serve Jesus Christ.