For Immediate Release – April 6, 2023

ECPA NAMES 72 FINALISTS FOR 2023 CHRISTIAN BOOK AWARD® PROGRAM
Record-breaking year yields 10 ties in 12 categories
Winners to be announced on May 9th at the ECPA Awards Celebration in Nashville, featuring Philip Yancey and Luci Shaw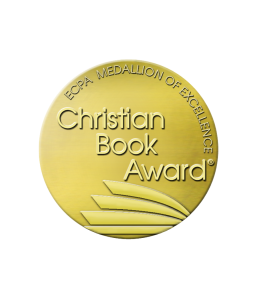 (TEMPE, ARIZ., April 6, 2023) — The Evangelical Christian Publishers Association (ECPA) names today the finalists in 12 categories for the 2023 Christian Book Award® program.  From a record-breaking pool of nearly 400 entries, with significant growth in the Children, Audio, and Bible Study categories, these 72 finalists represent the work of 28 Christian publishers and imprints. Twelve ties are announced in ten categories, with two ties each in Christian Living and Young People's Literature.
Shackled: One Woman's Dramatic Triumph Over Persecution, Gender Abuse, and a Death Sentence by Mariam Ibraheem with Eugene Bach (Whitaker House) placed in both the Audio and Biography & Memoir categories.  Max Lucado's You Can Count on God (Thomas Nelson) also placed in two categories: Devotion & Gift and Young People's Literature.
Finalists represent the industry's finest in categories ranging from New Author and Ministry Resources, to Faith & Culture and Bible Study; reflecting a variety of topics from a biblical lens including anxiety, sexuality, racial justice, inclusion, grief, suffering, nationalism, employee well-being, and more.
The winners in each category, along with the 2023 Christian Book of the Year®, will be announced at the ECPA Awards Celebration, held Tuesday evening May 9th in Nashville, during the ECPA Leadership Summit, amidst an audience of Christian publishing executives, managers, and industry guests.
The evening will feature award-winning author PHILIP YANCEY, who will keynote the event and receive the industry's Pinnacle Award in special recognition of the outstanding contribution of his body of work to the industry, church, and society at large.  Also honored that evening with the industry's Kenneth N. Taylor Lifetime Achievement Award, will be renown writer and poet LUCI SHAW, in recognition of her innovative, influential and enduring work in Christian publishing. She will receive the award and share a poem she wrote for the occasion.
"The Christian Book Awards are a key component of ECPA's industry recognition programs, honoring publishers and authors for books of substance and impact," said ECPA president Jeff Crosby. "We congratulate each of the finalists for their commitment to excellence in Christian publishing."
The finalists of the 2023 Christian Book Award® program in 12 categories are:
AUDIO – Tie
A Sea Between Us, Yoseli Pereira, narrated by Gustavo Rex, published by Two Words Publishing, book published by Tyndale Momentum, 9781666549041
Grieving, James R. White, narrated by Larry Wayne, published by Two Words Publishing, book published by Bethany House/ Baker Publishing Group, 9781666536256
Hearts of Fire, The Voice of the Martyrs, narrated by Nancy Wu, Soneela Nankani, Natasha Soudek, Coralie Bywater, produced by ONE Audiobooks, book published by The Voice of the Martyrs, 9780882641355
New American Standard Bible-NASB 2020, narrated by Michael Beck, produced by ONE Audiobooks, book published by The Lockman Foundation, 9781646892853
Part of My World, written and narrated by Jodi Benson, produced by ONE Audiobooks, book published by Tyndale Momentum, 9781496477064
Shackled, Mariam Ibraheem with Eugene Bach, narrated by Zoleka Vundla, produced by ONE Audiobooks, book published by Whitaker House, 9781646893928
---
BIBLES – Tie
ESV Concise Study Bible, Crossway, 9781433577697
ESV Reformation Study Bible, Student Edition, R.C. Sproul, General Editor, Ligonier Ministries, 9781642893762
Experiencing God Bible CSB, Richard Blackaby, Editor / CSB Bibles by Holman, B&H Publishing Group, 9781087765693
Explorer Bible for Kids CSB, CSB Bibles by Holman, B&H Publishing Group, 9781087758961
NIV Thompson Chain-Reference Bible, Zondervan, 9780310459804
The One Year Chronological Study Bible NLT, Chronological Bible Teaching and Tyndale House Publishers, 9781496456854
---
BIBLE REFERENCE WORKS – Tie
Early New Testament Apocrypha: Ancient Literature for New Testament Studies, Christopher Edwards, Editor, Zondervan Academic, 9780310099710
In the Fullness of Time: An Introduction to the Biblical Theology of Acts and Paul, Richard B. Gaffin Jr., Crossway, 9781433563348
Reading the Prophets as Christian Scripture: A Literary, Canonical, and Theological Introduction, Eric J. Tully, Baker Academic/ Baker Publishing Group, 9780801099731
Revelation Through Old Testament Eyes, Tremper Longman III, Kregel Publications, 9780825444739
Rose Guide to the Feasts, Festivals and Fasts of the Bible, Paul H. Wright, Rose Publishing/ Tyndale House Publishers, 9781649380210
Scribes and Scripture: The Amazing Story of How We Got the Bible, John D. Meade and Peter J. Gurry, Crossway, 9781433577895
---
BIBLE STUDY
Blessed: Experiencing the Promise of the Book of Revelation, Nancy Guthrie,Crossway, 9781433580208
Confronting Jesus: 9 Encounters with the Hero of the Gospels, Rebecca McLaughlin, Crossway, 9781433581137
New Testament Everyday Bible Study Series: Acts, Scot McKnight, HarperChristian Resources, 9780310129394
Radically Whole: Gospel Healing for the Divided Heart, David Gibson, Crossway, 9781433582066
The Women of the Bible Speak Workbook, Shannon Bream, HarperChristian Resources, 9780310155959
---
BIOGRAPHY & MEMOIR – Tie
America, a Redemption Story: Choosing Hope, Creating Unity, Senator Tim Scott, Thomas Nelson, 9781400236497
Behind the Lights: The Extraordinary Adventure of a Mum and Her Family, Helen Smallbone with Lisa Stilwell, EMF Publishing, 9781954201248
Now I Am Known: How a Street Kid Turned Foster Dad Found Acceptance and True Worth, Peter Mutabazi with Mark Tabb, Baker Books/ Baker Publishing Group, 9781540901989
Seasons of Sorrow: The Pain of Loss and the Comfort of God, Tim Challies, Zondervan Reflective, 9780310136736
Shackled: One Woman's Dramatic Triumph Over Persecution, Gender Abuse, and a Death Sentence, Mariam Ibraheem with Eugene Bach, Whitaker House, 9781641238199
Two Hundred Tuesdays: What a Pearl Harbor Survivor Taught Me about Life, Love, and Faith, Dianne Derby, NavPress, 9781641583732
---
CHILDREN – Tie
A Door Made for Me, Tyler Merritt; illustrated by Lonnie Ollivierre, WorthyKids, a division of Hachette Book Group, Inc., 9781546012566
The Biggest Story Bible Storybook, Kevin DeYoung; illustrated by Don Clark, Crossway, 9781433557378
The Chosen – Kids Activity Book (Season 2), The Chosen, Inc., BroadStreet Publishing Group, 9781424564880
Fly High: Understanding Grief with God's Help, Michelle Medlock Adams and Janet K. Johnson; illustrated by Beth Snider, End Game Press, 9781637970508
God Made You Too, Chelsea Tornetto; illustrated by Kimberley Barnes, WorthyKids, a division of Hachette Book Group, Inc., 9781546000853
Our God is Bigger Than That!, Michelle Medlock Adams and Eva Marie Everson; illustrated by Anna Jones, End Game Press, 9781637970348
---
CHRISTIAN LIVING – Double Tie
Aging Faithfully: The Holy Invitation of Growing Older, Alice Fryling, NavPress, 9781641583596
The Air We Breathe: How We All Came to Believe in Freedom, Kindness, Progress, and Equality, Glen Scrivener, The Good Book Company, 9781784987497
Find Your People: Building Deep Community in a Lonely World, Jennie Allen, WaterBrook, an imprint of Penguin Random House, 9780593193389
Habits of the Household: Practicing the Story of God in Everyday Family Rhythms, Justin Whitmel Earley, Zondervan, 9780310362937
How to Hear God: A Simple Guide for Normal People, Pete Greig, Hodder & Stoughton and Zondervan Reflective, 9780310114604
How to Inhabit Time: Understanding the Past, Facing the Future, Living Faithfully Now, James K. A. Smith, Brazos Press/ Baker Publishing Group, 9781587435232
The Soul of Desire: Discovering the Neuroscience of Longing, Beauty, and Community, Curt Thompson, InterVarsity Press, 9781514002100
---
DEVOTION & GIFT – Tie
Emmanuel: An Invitation to Prepare Him Room at Christmas and Always, Ruth Chou Simons, Harvest House Publishers, 9780736984966
ESV Psalms, Photography Edition, Crossway, 9781433579240
Heart of God: 31 Days to Discover God's Love for You, Elisabeth Elliott, DaySpring, 9781648708473
Songs of Suffering: 25 Hymns and Devotions for Weary Souls, Joni Eareckson Tada, Crossway, 9781433576409
When You Don't Know What to Pray: 100 Essential Prayers for Enduring Life's Storms, Charles F. Stanley, Zondervan, 9780310360773
You Can Count on God: 365 Devotions, Max Lucado, Thomas Nelson Gift, 9781400224678
---
FAITH & CULTURE – Tie
A Hole in the World: Finding Hope in Rituals of Grief and Healing, Amanda Held Opelt, Worthy Books, a division of Hachette Book Group, Inc., 9781546001898
How We Love Matters: A Call to Practice Relentless Racial Reconciliation, Albert Tate, FaithWords, a division of Hachette Book Group, Inc., 9781546000532
The Religion of American Greatness: What's Wrong with Christian Nationalism, Paul D. Miller, InterVarsity Press, 9781514000267
Still Time to Care: What We Can Learn from the Church's Failed Attempt to Cure Homosexuality, Greg Johnson, Zondervan Reflective, 9780310140931
Strange New World: How Thinkers and Activists Redefined Identity and Sparked the Sexual Revolution, Carl R. Trueman, Crossway, 9781433579301
Voices of Lament: Reflections on Brokenness and Hope in a World Longing for Justice, Natasha Sistrunk Robinson, Ed., Revell/ Baker Publishing Group, 9780800740900
---
MINISTRY RESOURCES
A Non-Anxious Presence: How a Changing and Complex World will Create a Remnant of Renewed Christian Leaders, Mark Sayers, Moody Publishers, 9780802428578
Keeping Your Children's Ministry on Mission: Practical Strategies for Discipling the Next Generation, Jared Kennedy, Crossway, 9781433576874
Road to Flourishing: Eight Keys to Boost Employee Engagement and Well-Being, Al Lopus, InterVarsity Press, 9781514002469
The Sacred Us: A Call to Radical Christian Community, Justin Kendrick, David C Cook, 9780830784486
Workers for Your Joy: The Call of Christ on Christian Leaders, David Mathis, Crossway, 9781433578076
---
NEW AUTHOR – Tie
A Christian's Guide to Planet Earth: Why It Matters and How to Care for It, Betsy Painter, Zondervan, 9780310458630
Breath as Prayer: Calm Your Anxiety, Focus Your Mind, and Renew Your Soul, Jennifer Tucker, Thomas Nelson Gift, 9781400234585
Dear Anxiety, Let's Break Up: 40 Devotions to Conquer Worry and Fear, Amanda Porter, Ph.D., BroadStreet Publishing Group, 9781424562541
On Our Knees: 40 Days to Living Boldly in Prayer, Phil Wickham with Matt Litton, EMF Publishing, 9781954201286
Shame: Being Known and Loved, Esther Liu, P&R Publishing, 9781629950020
We're Stronger than We Look: Insights and Encouragement for the Caregiver's Journey,  Jill Case Brown, NavPress, 9781641583886
---
YOUNG PEOPLE'S LITERATURE – Double Tie
Darkest Night Brightest Day, Marty Machowski, illustrated by Phil Schorr, New Growth Press, 9781645072089
How to Pray: A Guide for Young Explorers, Pete Greig with Gemma Hunt, Hodder & Stoughton and NavPress, 9781529377507
The Non-Prophet's Guide to Prophecy for Young People, Todd Hampson, Harvest House Publishers, 9780736982801
The Prince and the Blight, Kathryn Butler, Crossway, 9781433579516
The Wonder of Creation: 100 More Devotions About God and Science, Louie Giglio with Tama Fortner; illustrated by Nicola Anderson, Tommy Nelson, 9781400230464
You Can Count on God: 100 Devotions for Kids, Max Lucado, Tommy Nelson, 9781400233328
You Can Rest: 100 Devotions to Calm Your Heart and Mind, Katy Boatman, B&H Publishing Group, 9781087748702
The finalists and winners will be promoted through multiple retail and media outlets, including a suite of ads through media sponsor Christianity Today.  The Christian Book Award® program is supported by retail partners ChristianBook.com, LifeWay, Logos, Mardel, The Munce Group/MTL, NetGalley, and Parable Christian Stores.
>> View the finalists at christianbookawards.com/finalists.html
>> More on Christian Book Award® program: christianbookawards.com
>> ECPA Awards Celebration info: ecpaleadership.org/awards-evening.html
---
The Christian Book Award® program has recognized the absolute highest quality in Christian books since 1978, when it was called the Gold Medallion Award. Based on excellence in content, literary quality, design, and impact, the Christian Book Award® program is the oldest and among the most prestigious awards in the religious publishing industry.  ChristianBookAwards.com
The Evangelical Christian Publishers Association (ECPA) is an international non-profit trade organization comprised of member companies that are involved in the publishing and distribution of Christian content worldwide. Since 1974, ECPA has strengthened Christian publishing by building networking, information, and advocacy opportunities within the industry and throughout multiple channels so that our members can more effectively produce and deliver transformational Christian content. For more information about ECPA: info@ecpa.org, ECPA.org.
Media contacts:
Jeff Crosby, ECPA President and CEO, jcrosby@ecpa.org, 630-989-0222
Cindy Carter, ECPA Awards & Recognition Manager, ccarter@ecpa.org, 480-966-3998