For Immediate Release — April 8, 2021

ECPA Announces 66 Finalists for the 2021 Christian Book Award® Program
Winners announced on May 6 in free webcast with bestselling author and Pinnacle Award recipient Max Lucado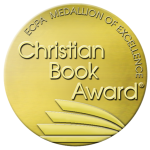 (TEMPE, ARIZ., April 8, 2021) — The Evangelical Christian Publishers Association (ECPA) names today 66 finalists in 12 categories for the 2021 Christian Book Award® program.  The finalists represent the work of 26 Christian publishers and include ties in five categories.
Amidst the challenges of 2020, the program received a record number of submissions in its 43-year history.
The winners in each category, along with the 2021 Christian Book of the Year®, will be announced in a special online broadcast of the ECPA Awards Celebration on May 6 at 1 pm central time. This is the second year in a row that the annual industry awards event – traditionally a dinner gala with publishing leaders — has been offered online to a broader audience.
"Because our Christian Book Award Celebration will be produced as a webcast, it's possible for more people than usual to experience the premiere award event in Christian publishing," said Stan Jantz, ECPA president. "We are excited to showcase the best our industry has to offer, especially at a time when readers are looking for hope and answers to real-life problems."
The free webcast will feature Pinnacle Award recipient and bestselling author Max Lucado in recognition of his tremendous impact on society and the Christian publishing industry. His books have been translated into 45 languages and distributed to 80 countries. The event will also serve as the conclusion to the industry's ECPA Virtual Leadership Summit for Christian publishing leaders, held April 27-29 and May 4-6. 
The Finalists of the 2021 Christian Book Award® program are:
AUDIO
Born Again This Way, written and narrated by Rachel Gilson, produced by Cory Verner/ ONE Audiobooks, published by The Good Book Company, 9781646891092
Chasing Vines,  written and narrated by Beth Moore, produced by Lisa Smith/ Oasis Audio, published by Tyndale House Publishers, 9781640913714
Foundations, written and narrated by Ruth Chou Simons and Troy Simons, produced by Cory Verner/ ONE Audiobooks, published by Harvest House Publishers, 9780736982894
Suffer Strong, written and narrated by Katherine and Jay Wolf, produced by Gabe Wicks/  HarperCollins Christian, published by Zondervan, 9780310358190
Why Does God Care Who I Sleep With, written by Sam Allberry, narrated by Hannibal Hills, produced by Claton Butcher/ Two Words Publishing, published by The Good Book Company, 9781662011252
---
BIBLES
CSB Holy Land Illustrated Bible, CSB Bibles, B&H Publishing Group, 9781430070474
CSB Tony Evans Study Bible, Dr. Tony Evans, B&H Publishing Group, 9781433606915
ESV Women's Study Bible, Crossway, 9781433572043
NET Full Notes Edition Bible, Thomas Nelson, 9780785224648
NIV Study Bible Fully Revised Edition, Zondervan, 9780310448945
---
BIBLE REFERENCE WORKS
The Harvest Handbook™ of Bible Lands, Joseph M. Holden and Steven Collins, Harvest House Publishers, 9780736975421
In Stone and Story, Bruce W. Longenecker, Baker Academic/ Baker Publishing Group, 9781540960672
Job: The Faith to Challenge God, Michael L. Brown, Hendrickson Publishing Group, 9781598568431
The New Testament in its World: An Introduction to the History, Literature and Theology of the First Christians, N.T. Wright and Michael Bird, Zondervan Academic and SPCK (IVP/UK), 9780310499305
The Story Retold: A Biblical-Theological Introduction to the New Testament, G. K. Beale and Benjamin L. Gladd, InterVarsity Press, 9780830852666
---
BIBLE STUDY
Discovering Jesus in the Old Testament, Jean E. Jones, Pam Farrel, and Karla Dornacher, Harvest House Publishers, 9780736975209
Esther: The Hidden Hand of God, Lydia Brownback, Crossway, 9781433566615
Living for What Really Matters: 7 Weeks in the Book of Philippians (Get Wisdom Bible Studies), Teresa Swanstrom Anderson, NavPress, 9781631469985
Surprised by the Parables, Michelle Lee Barnewall, Lexham Press, 9781683592990
The Way Home: God's Invitation to New Beginnings, Tessa Afshar, Moody Publishers, 9780802419835
---
BIOGRAPHY & MEMOIR – Tie
Bavinck, James Eglinton, Baker Academic/ Baker Publishing Group, 9781540961358
Becoming Elisabeth Elliot, Ellen Vaughn, B&H Publishing Group, 9781535910934
Dirt, Mary Marantz, Revell/ Baker Publishing Group, 9780800738457
The History of Apologetics: A Biographical and Methodological Introduction, Benjamin K. Forrest, Josh D. Chatraw, Alister E. McGrath, Zondervan Academic, 9780310559412
I Am Restored, Lecrae, Zondervan, 9780310358039
I've Seen the End of You, W. Lee Warren, MD, WaterBrook, 9780525653219
---
CHILDREN
A to Z Devotions for Brave Boys, Matt Koceich; illustrated by Kevin Payne, Barbour Publishing, Inc., 9781643525150
Arlo and the Great Big Cover-Up,  Betsy Childs Howard, illustrated by Samara Hardy, Crossway, 9781433568527
Different Like Me, Xochitl Dixon, illustrated by Bonnie Lui, Our Daily Bread Publishing, 9781640700420
Extraordinary Women of the Bible, Michelle Sloan, illustrated by Summer Macon, SPCK (IVP/UK), 9780281081233
I Love You to the Stars, Crystal Bowman and Doug Groothuis, illustrated by Robert Sauber, Kregel Publications, 9780825446474
---
CHRISTIAN LIVING – Tie
Dangerous Prayers, Craig Groeschel, Zondervan, 9780310343127
Gentle and Lowly: The Heart of Christ for Sinners and Sufferers, Dane C. Ortlund, Crossway, 9781433566134
Get Out of Your Head, Jennie Allen, WaterBrook, 9781601429643
How to Pray: A Simple Guide for Normal People, Pete Greig, NavPress, 9781641581882
In Want + Plenty, Meredith McDaniel, Revell/ Baker Publishing Group, 9780800735791
Show Me Your Glory: Understanding the Majestic Splendor of God, Steven J. Lawson, Ligonier Ministries, 9781642892635
---
DEVOTION & GIFT – Tie
How Great Is Our God: 100 Indescribable Devotions About God and Science,  Louie Giglio, Tommy Nelson, 9781400215522
The Light of His Presence, Anne Graham Lotz, Multnomah, 9780525651178
More Power to You: Declarations to Break Free from Fear and Take Back Your Life, Margaret Feinberg, Zondervan, 9780310455561
Take Heart, (in)courage, Revell/ Baker Publishing Group, 9780800738075
They Call Me Mom, Michelle Medlock Adams and Bethany Jett, Kregel Publications, 9780825446160
What If Jesus Was Serious, Skye Jethani, Moody Publishers, 9780802419750
---
FAITH & CULTURE – Tie
Be the Bridge, Latasha Morrison, WaterBrook, 9780525652885
Becoming Brave, Brenda Salter McNeil, Brazos Press/ Baker Publishing Group, 9781587434471
The House that Love Built, Sarah Jackson with Scott Sawyer, Zondervan, 9780310355625
Reading While Black: African American Biblical Interpretation as an Exercise in Hope, Esau McCaulley, InterVarsity Press, 9780830854868
Thou Shalt Not Be a Jerk, Eugene Cho, David C Cook, 9780781411158
Weep with Me: How Lament Opens a Door for Racial Reconciliation, Mark Vroegop, Crossway, 9781433567599
White Lies, Daniel Hill, Zondervan, 9780310358510
---
MINISTRY RESOURCES – Tie
A Church Called Tov, Scot McKnight and Laura Barringer, Tyndale House Publishers, 9781496446008
Compassion (&) Conviction: The AND Campaign's Guide to Faithful Civic Engagement, Justin Giboney, Michael Wear, and Chris Butler, InterVarsity Press, 9780830848102
Finding the Right Hills to Die On, Gavin Ortlund, Crossway, 9781433567421
Is It Abuse? A Biblical Guide to Identifying Domestic Abuse and Helping Victims, Darby A. Strickland, P&R Publishing Company, 9781629956947
Lead: 12 Gospel Principles for Leadership in the Church, Paul David Tripp, Crossway, 9781433567636
When Narcissism Comes to Church: Healing Your Community From Emotional and Spiritual Abuse, Chuck DeGroat, InterVarsity Press, 9780830841592
---
NEW AUTHOR
The Fight to Flourish, Jennie Lusko, W Publishing Group, an imprint of Thomas Nelson, 9780785232148
Held: 31 Biblical Reflections on God's Comfort and Care in the Sorrow of Miscarriage, Abbey Wedgeworth, The Good Book Company, 9781784984779
Laughing Through the Ugly Cry…and Finding Unstoppable Joy, Dawn Barton, Thomas Nelson Gift, 9781400217762
This Life We Share: 52 Reflections on Journeying Well with God and Others, Maggie Wallem Rowe, NavPress, 9781641580076
Try Softer, Aundi Kolber, Tyndale House Publishers, 9781496439659
---
YOUNG PEOPLE'S LITERATURE
The Big Book of Bible Questions, Amy Parker and Doug Powell, Tyndale House Publishers, 9781496435248
Goliath Must Fall for Young Readers: Winning the Battle Against Your Giants, Louie Giglio with Laura Fortner, Tommy Nelson, 9781400223633
Loved and Cherished: 100 Devotions for Girls, Lynn Cowell with Michelle Nietert, M.A., LPC-S CSC, Zonderkidz, 9780310769972
Praying Girls Devotional, Sheila Walsh, Baker Books/ Baker Publishing Group, 9781540900678
WonderFull: Ancient Psalms Ever New, Marty Machowski, New Growth Press, 9781948130745
The finalists and winners will be promoted through multiple retail and media outlets, including a suite of ads through media sponsor Christianity Today.  The Christian Book Award® program is supported by retail partners ChristianBook.com, LifeWay, Logos, Mardel, The Munce Group/MTL, NetGalley, Parable Christian Stores,  and the Signature Marketing Network.  Faceout Studio will design the slide presentation for the online broadcast of the Awards Ceremony.
---
The Christian Book Award® program has recognized the absolute highest quality in Christian books since 1978. Based on excellence in content, literary quality, design, and impact, the Christian Book Award® program is the oldest and among the most prestigious awards in the religious publishing industry.  ChristianBookAwards.com
The Evangelical Christian Publishers Association (ECPA) is an international non-profit trade organization comprised of member companies that are involved in the publishing and distribution of Christian content worldwide. Since 1974, ECPA has strengthened Christian publishing by building networking, information, and advocacy opportunities within the industry and throughout multiple channels so that our members can more effectively produce and deliver transformational Christian content. For more information about ECPA: info@ecpa.org, ECPA.org.
Media contacts:
Stan Jantz, ECPA Executive Director, sjantz@ecpa.org, 480-966-3998
Cindy Carter, ECPA Awards & Recognition Manager, ccarter@ecpa.org, 480-966-3998