For Immediate Release — August 12, 2022

The Christy Award® Gala & Art of Writing program returns to Nashville on Nov. 17
Gala to honor the literary contributions of bestselling author JAN KARON (The Mitford Series) and feature award-winning novelists Amanda Cox, Becky Wade, and Chris Fabry.
The Art of Writing conference will gather writers, authors, agents and publishers around four dynamic sessions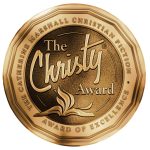 August 12, 2022, Tempe, AZ – ECPA has announced the in-person program for THE CHRISTY AWARD fall events that include the celebration Gala for the industry's top award for Christian fiction – and a four-part ART OF WRITING series for creatives, publishers, writers, and fans.
The event will be held on November 17 at the Ezell and Shinn Centers at Lipscomb University in Nashville.  Registration is now open.
The 2021 Christy Book of the Year® author AMANDA COX (The Edge of Belonging) will be the featured speaker in the celebratory Christy Award Gala dinner that evening, which will also include Christy Hall of Fame inductee BECKY WADE (Stay With Me), and bestselling author CHRIS FABRY (Dogwood) returning as our winsome emcee.  The evening will also include the presentation of the 2022 winners of The Christy Award for Christian fiction.
The literary contributions of JAN KARON, author of 23 books including the bestselling Mitford Series, will be featured and include a special interview segment with her via video.
"Jan Karon's novels, dating back to the original release of At Home in Mitford in 1994 and continuing into the third decade of the current century, have exemplified excellence in literary quality, character development, and deep reader engagement," said Jeff Crosby, ECPA president. "Her books have given all of us an extended family and a home we can be a part of. I'm delighted by the opportunity to recognize Jan's work at the 2022 Christy Award Gala."
Leading up to the Gala, will be the sixth annual Art of Writing conference.  The four-session conference will bring together writers, creatives, and publishing curators for training and connection around these topics:
When Weary & Discouraged: How We Can Care for Our Writing Souls with author CAROLYN WEBER, whose debut book Surprised by Oxford, is being made into a feature film
To Tok or Not to Tok with reel pros EMILIE HANEY (pen name Bell Renshaw) and author/ podcaster KRISTI ANN HUNTER
How Reading Diverse Books Makes Us Better Authors and Humans with a panel of writers, agents, and publishers who share their own stories and best practices through this approach
What Makes a Gush-Worthy Book with book reviewer CARRIE SCHMIDT, Revell senior acquisitions editor KELSEY BOWEN, author and agent CYNTHIA RUCHTI, and WaterBrook editor JAMIE LAPEYROLERIE
Bundle pricing for the Gala and the conference is $139.  Registration and area hotels are posted at: ECPA.org/event/AOWChristyGala2022. (For publishers attending ECPA PubU the day prior, the Art of Writing conference is included in registration, along with other programming options.)
The Christy Award finalists will be revealed by free webcast on October 11 hosted by Christy Hall of Fame author CHRIS FABRY.  Registration for that event is forthcoming.
For more information and to register, visit TheChristyAward.com.
---
ECPA (Evangelical Christian Publishers Association) is an international non-profit trade organization comprised of member companies that are involved in the publishing and distribution of Christian content worldwide. Since 1974, ECPA has strengthened Christian publishing by building networking, information, and advocacy opportunities within the industry and throughout multiple channels so that our members can more effectively produce and deliver transformational Christian content. ECPA.org
The Christy Award® is the foremost award honoring and promoting excellence in Christian fiction since 1999, and is named for Catherine Marshall's novel, Christy, which has sold over 10 million copies since its publication in 1967. ECPA assumed ownership and administration of the award in 2017 to focus and grow the unique opportunity of fiction in Christian publishing.  TheChristyAward.com
FB ChristyAward  T @ChristyAward  IG @thechristyaward
Media contacts:
Jeff Crosby, ECPA President and CEO, jcrosby@ecpa.org, 480-966-3998 ext. 101
Cindy Carter, ECPA Awards & Recognition Manager, ccarter@ecpa.org, 480-966-3998 ext. 103