For Immediate Release — May 10, 2023

ECPA Announces the 2023 Christian Book Award® Winners in 12 Categories
"FIND YOUR PEOPLE: BUILDING DEEP COMMUNITY IN A LONELY WORLD" by Jennie Allen is named the 2023 Christian Book of the Year®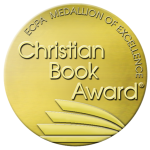 NASHVILLE, TENN., May 10, 2023 – Last night, the Evangelical Christian Publishers Association (ECPA) announced 14 winners of the 2023 Christian Book Awards® including the 2023 Christian Book of the Year®.  Presented annually since 1978, the Christian Book Award® program honors the "best of the year" in Christian literature. The winners were selected from 72 finalists to reflect literary excellence in 12 categories.  Several ties were announced in the finalist round, with one tie emerging in the winners round in Children.
"Find Your People: Building Deep Community in a Lonely World" (WaterBrook) by New York Times bestselling author JENNIE ALLEN, was named the 2023 Christian Book of the Year.  In her bestselling book, Allen — a Bible teacher and visionary/founder of the IF:Gathering — offers practical solutions for creating true community, "the kind that's crucial to our mental and spiritual health."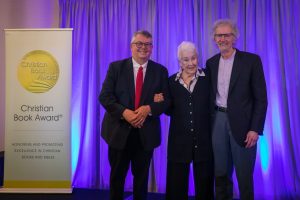 The celebratory evening also featured award-winning author PHILIP YANCEY, who received the industry's Pinnacle Award in special recognition of the outstanding contribution of his body of work to the industry, church, and society at large.  Yancey also delivered a heartfelt keynote reflecting on his writing life.
Also honored with the industry's Kenneth N. Taylor Lifetime Achievement Award, was renown writer and poet LUCI SHAW, in recognition of her innovative, influential and enduring work in Christian publishing.  The 94-year old poet, author, editor and former publisher, wrote and presented a poem for the occasion, called "The Quickening."
"The work of Philip Yancey, Luci Shaw, and each of the 2023 ECPA Christian Book Award® winners represents excellence in Christian publishing in varied and unique expressions," JEFF CROSBY, ECPA president, said. "All of us at ECPA are honored to recognize these authors, publishers and individual projects and we extend our sincere congratulations."
Congratulations to the following winners of the 2023 Christian Book Awards:
2023 CHRISTIAN BOOK OF THE YEAR®
Find Your People: Building Deep Community in a Lonely World
Jennie Allen, WaterBrook, an imprint of Penguin Random House, 9780593193389
---
AUDIO
Shackled: One Woman's Dramatic Triumph Over Persecution, Gender Abuse, and a Death Sentence
Mariam Ibraheem with Eugene Bach, narrated by Zoleka Vundla, produced by ONE Audiobooks, book published by Whitaker House, 9781646893928
---
BIBLES
Explorer Bible for Kids CSB
CSB Bibles by Holman, B&H Publishing Group, 9781087758961
---
BIBLE REFERENCE WORKS
Early New Testament Apocrypha: Ancient Literature for New Testament Studies
Christopher Edwards, Editor, Zondervan Academic, 9780310099710
---
BIBLE STUDY
Blessed: Experiencing the Promise of the Book of Revelation
Nancy Guthrie, Crossway, 9781433580208
---
BIOGRAPHY & MEMOIR
Seasons of Sorrow: The Pain of Loss and the Comfort of God
Tim Challies, Zondervan Reflective, 9780310136736
---
CHILDREN – TIE
The Biggest Story Bible Storybook
Kevin DeYoung; illustrated by Don Clark, Crossway, 9781433557378
Our God is Bigger Than That!
Michelle Medlock Adams and Eva Marie Everson; illustrated by Anna Jones, End Game Press, 9781637970348
---
CHRISTIAN LIVING
How to Inhabit Time: Understanding the Past, Facing the Future, Living Faithfully Now
James K. A. Smith, Brazos Press/ Baker Publishing Group, 9781587435232
---
DEVOTION & GIFT
When You Don't Know What to Pray: 100 Essential Prayers for Enduring Life's Storms
Charles F. Stanley, Zondervan, 9780310360773 
---
FAITH & CULTURE
Still Time to Care: What We Can Learn from the Church's Failed Attempt to Cure Homosexuality
Greg Johnson, Zondervan Reflective, 9780310140931
---
MINISTRY RESOURCES
A Non-Anxious Presence: How a Changing and Complex World will Create a Remnant of Renewed Christian Leaders
Mark Sayers, Moody Publishers, 9780802428578
---
NEW AUTHOR
Breath as Prayer: Calm Your Anxiety, Focus Your Mind, and Renew Your Soul
Jennifer Tucker, Thomas Nelson Gift, 9781400234585
---
YOUNG PEOPLE'S LITERATURE
How to Pray: A Guide for Young Explorers
Pete Greig with Gemma Hunt, Hodder & Stoughton and NavPress, 9781529377507
The winners will be promoted through multiple retail and media outlets, including a suite of ads through media sponsor Christianity Today. The Christian Book Award® program is supported by retail partners ChristianBook.com, The Parable Group, LifeWay.com, Logos, Mardel, The Munce Group/MTL, and NetGalley.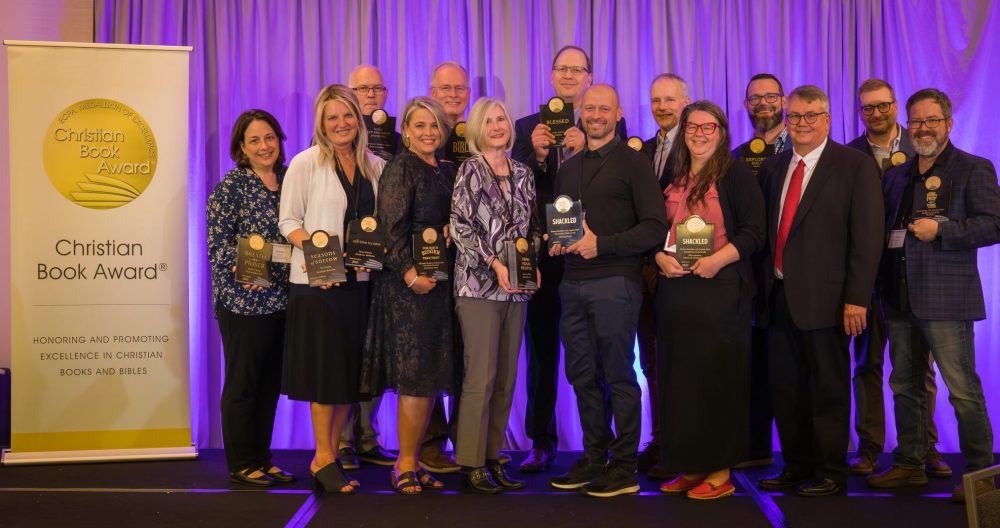 Pictured from left:  Stacey Altemari (HCCP); Jerri Helms (HCCP); Doug Lockhart (HCCP); Victoria Duerstock (End Game Press); Randy Jahns (Crossway); Laura Barker (WaterBrook); Dan Kok (Crossway); Cory Verner (ONE Audiobooks); Web Younce (HCCP); Christine Whitaker (Whitaker House); Andy McLean (B&H Publishing); Jeff Crosby (ECPA); Jesse Myers (Baker Publishing Group); David Zimmerman (NavPress)
---
The Christian Book Award® program has recognized the absolute highest quality in Christian books since 1978, when it was called the Gold Medallion Award. Based on excellence in content, literary quality, design, and impact, the Christian Book Award® program is the oldest and among the most prestigious awards in the religious publishing industry.  ChristianBookAwards.com
The Evangelical Christian Publishers Association (ECPA) is an international non-profit trade organization comprised of member companies that are involved in the publishing and distribution of Christian content worldwide. Since 1974, ECPA has strengthened Christian publishing by building networking, information, and advocacy opportunities within the industry and throughout multiple channels so that our members can more effectively produce and deliver transformational Christian content. ECPA.org
Media contacts:
Jeff Crosby, ECPA President and CEO, jcrosby@ecpa.org, 630-989-0222
Cindy Carter, ECPA Awards & Recognition Manager, ccarter@ecpa.org, 480-966-3998