For Immediate Release — November 12, 2020

Nine Novels Announced as the Year's Best Christian Fiction
The Christy Award® celebration webcast featured bestselling authors Lisa Wingate, Chris Fabry, and the 2019 winning authors announcing the 2020 winners
Debut novel "Whose Waves These Are" by Amanda Dykes wins The Christy Award® Book of the Year

Multi Christy Award winning authors Tamera Alexander and Steven James inducted into the Christy Award Hall of Fame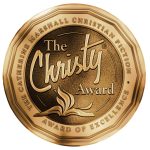 TEMPE, ARIZ., NOVEMBER 12, 2020 – Tonight, the Evangelical Christian Publishers Association (ECPA) announced the winners of The Christy Award® in nine fiction categories during the Christy Award Winners Webcast.  The online event was viewed by an estimated 500+ authors and writers, publishers and industry professionals, readers and fans, to honor the year's best in Christian fiction.  The event culminated a five-week Art of Writing webinar series led by authors and publishers sharing tips and inspiration for writers.
The webcast featured New York Times bestselling author LISA WINGATE as keynote and award-winning novelist CHRIS FABRY as emcee.  Last year's winning authors in each category announced this year's winners, including: Patti Callahan, David Rawlings, Katie Ganshert, Becky Wade, Terri Blackstock, Connilyn Cossette, Kathy Tyers Gillin, Melanie Dickerson, Steven James, and Tamera Alexander.
All three of this year's debut novel finalists took home Christy Awards:
Whose Waves These Are by Amanda Dykes (Bethany House) was awarded the top honor of the 2020 Christy Book of the Year. Dykes' first full length book also won in the General Fiction category.
First Novel finalist, The Means That Make Us Strangers by Christine Kindberg (Bellflower Press) won in the Young Adult category.
A Long Time Comin' by Robin W. Pearson (Tyndale House Publishers) won the First Novel category.
"Fiction writers informed by their faith are bringing a new kind of hope to the world through their stories," said ECPA President & CEO Stan Jantz in congratulating the winners. "In particular, the recognition given to all three First Novels, including the Christy Book of the Year, illustrates the depth of talent emerging in this space."
The 2020 Christy Award winners are:   
BOOK OF THE YEAR
Whose Waves These Are, Amanda Dykes
Bethany House/ Baker Publishing Group, 9780764232664
---
CONTEMPORARY ROMANCE
Now and Then and Always, Melissa Tagg
Larkspur Press, 9780997964233
---
FIRST NOVEL
A Long Time Comin', Robin W. Pearson
Tyndale House Publishers, 9781496441881
---
GENERAL FICTION
Whose Waves These Are, Amanda Dykes
Bethany House/ Baker Publishing Group, 9780764232664
---
HISTORICAL
The Medallion, Cathy Gohlke
Tyndale House Publishers, 9781496429667
---
HISTORICAL ROMANCE
The Painted Castle, Kristy Cambron
Thomas Nelson, 9780718095529
---
MYSTERY/SUSPENSE/THRILLER
The Girl Behind the Red Rope, Ted Dekker and Rachelle Dekker
Revell/ Baker Publishing Group, 9780800736538
---
SHORT FORM
A Christmas Haven, Cindy Woodsmall and Erin Woodsmall
WaterBrook, 9780525653295
---
VISIONARY
Hidden Current, Sharon Hinck
Enclave Publishing, 9781621840992
---
 YOUNG ADULT
The Means That Make Us Strangers, Christine Kindberg
Bellflower Press, 9781797761350
Also honored during the webcast was multiple Christy Award winning authors STEVEN JAMES and TAMERA ALEXANDER, who were each inducted into the Christy Award Hall of Fame for their legacy and contributions to Christian fiction.  They join prior honorees James Rubart, Chris Fabry, Lynn Austin, Davis Bunn, and Karen Hancock in this highest author honor of the program.  All have won at least four Christy Awards.
The Christy Award program is supported by media partner Christianity Today, and retail partners ChristianBook.com, LifeWay, Logos, Mardel, The Munce Group, NetGalley, Signature Marketing, and Amazon.
For more information about The Christy Award® program and to sign up for award and event updates for the 2021 season, go to ChristyAwards.com.
###
The Evangelical Christian Publishers Association (ECPA) is an international non-profit trade organization comprised of member companies that are involved in the publishing and distribution of Christian content worldwide. Since 1974, ECPA has strengthened Christian publishing by building networking, information, and advocacy opportunities within the industry and throughout multiple channels so that our members can more effectively produce and deliver transformational Christian content. ECPA.org
The Christy Award® is the foremost award honoring and promoting excellence in Christian fiction since 1999, and is named for Catherine Marshall's novel, "Christy," which has sold over 10 million copies since its publication in 1967. ECPA assumed ownership and administration of the award in 2017 to focus and grow the unique opportunity of fiction in Christian publishing. ChristyAwards.com
Media Contacts:
Stan Jantz, President & CEO, sjantz@ecpa.org, 480-966-3998 ext. 101
Cindy Carter, Awards & Recognition Manager, ccarter@ecpa.org, 480-966-3998 ext. 103