For Immediate Release — November 18, 2022

The Christy Award® names ten novels as the year's best in Christian fiction
The 2022 Book of the Year is "The Secret Keepers of Old Depot Grocery" by Amanda Cox – her second Book of the Year; and the first consecutive Book of the Year win for the same author in Christy Award history
The debut AMPLIFY AWARD is presented to Toni Shiloh's "In Search of a Prince," honoring the program's best novel which amplifies a multiethnic perspective
Award-winning novelist BECKY WADE is inducted into the Christy Hall of Fame
Event featured the literary contributions of bestselling author JAN KARON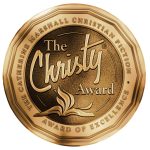 NASHVILLE, TENN., NOVEMBER 18, 2022 – Last night, the Evangelical Christian Publishers Association (ECPA) announced the winners of The Christy Award® in nine fiction categories, plus the Book of the Year and the program's debut award: The Amplify Award.  Winning novels were announced by a host of the genre's acclaimed authors including Amanda Dykes, Christine Kindberg, Robin W. Pearson, Sarah Fernandez Rhoads, Becky Wade, Chris Fabry, and Amanda Cox.
Returning to Nashville, for an in-person dinner gala at Lipscomb University's George Shinn Center, the event gathered approximately 150 publishers, authors, and fiction fans.  The event followed the sixth annual Art of Writing conference for authors, publishers, and storytellers for training and connection.
For the first time in the award program's history, the BOOK OF THE YEAR was presented to the same author who won it the previous year: AMANDA COX, who was the evening's featured speaker.  In 2021 her debut novel "The Edge of Belonging" (Revell) won the Book of the Year and the First Novel category.  This year, her second novel, "The Secret Keepers of Old Depot Grocery" (Revell) took the prize.  Cox, a therapist-turned-novelist, also took home the General Fiction award for the same book.
Hosted by award-winning novelist CHRIS FABRY, the Gala also featured the presentation of the program's first AMPLIFY AWARD to: "In Search of a Prince" by TONI SHILOH (Bethany House) for its excellence in storytelling, which borrowed from the author's ethnic heritage from West Africa. The Amplify Award was created by publishers and agents to elevate and recognize under-represented ethnic stories of excellence, and their authors.
In presenting the award, program consultant JEVON BOLDEN (Embolden Media Group) stated: "Our judges agreed that it was hard not to be overtaken by the superb storytelling, world-building, and character development that Shiloh mastered with seemingly extraordinary ease and flow.  We found it to be an outstanding representation of literary excellence and an authentic 'own voices' story that stood out in every way.  We find it a unique privilege, as an ethnically diverse judge panel, to contribute toward a deeper read of books by BIPOC authors and look forward to continuing to amplify their voices and stories."
Also a first… SHARON HINCK's final installment of The Dancing Realms trilogy, "Windward Shore" (Enclave) won in the Speculative category, making it the first full series (3 books) that have each won a Christy Award.
"This was an exciting year of 'first milestones' – emphasizing both excellence and innovation in storytelling that The Christy Award® program recognizes," expressed JEFF CROSBY, ECPA president and CEO.  "We congratulate every finalist and winning author and their publishers for their 2022 honors."
Presenting The Christy Award winners for 2022:
BOOK OF THE YEAR
The Secret Keepers of Old Depot Grocery, Amanda Cox
Revell/ Baker Publishing Group, 9780800737412
---
THE AMPLIFY AWARD FOR CHRISTIAN FICTION
In Search of a Prince, Toni Shiloh
Bethany House/ Baker Publishing Group, 9780764238956
---
By Category:

CONTEMPORARY ROMANCE
All That Really Matters, Nicole Deese
Bethany House/ Baker Publishing Group, 9780764234965
---
FIRST NOVEL
All That Is Secret, Patricia Raybon
Tyndale House Publishers, 9781496458384
---
GENERAL FICTION
The Secret Keepers of Old Depot Grocery, Amanda Cox
Revell/ Baker Publishing Group, 9780800737412
---
HISTORICAL
Drawn by the Current, Jocelyn Green
Bethany House/ Baker Publishing Group, 9780764233326
---
HISTORICAL ROMANCE
Until Leaves Fall in Paris, Sarah Sundin
Revell/ Baker Publishing Group, 9780800736378
---
MYSTERY/SUSPENSE/THRILLER
Aftermath, Terri Blackstock
Thomas Nelson Publishers, 9780310345978
---
SHORT FORM
A Texas Christmas Carol (in Under the Texas Mistletoe), Karen Witemeyer
Bethany House/ Baker Publishing Group, 9780764239311
---
SPECULATIVE
Windward Shore, Sharon Hinck
Enclave Publishing, a division of Oasis Family Media, 9781621841678
---
YOUNG ADULT
Shadow, Kara Swanson
Enclave Publishing, a division of Oasis Family Media, 9781621841739
The evening also included a special tribute to JAN KARON, author of 23 books including the bestselling Mitford Series, via a special video interview with Jeff Crosby. Karon identified the sense of calling she had at a very young age "not only to write but to be an author." She traced the earliest creative influence on her life to her first grade teacher and encouraged her fellow novelists to honor their readers by writing out of a deep place of faith that will provide light to the world. "Jan Karon's novels have exemplified excellence in literary quality, character development, and deep reader engagement since the very first volume of the Mitford books was released nearly 30 years ago," said Crosby. "Her books have given all of us an extended family and a home we can be a part of."
In addition, BECKY WADE, the Christy Award and Carol Award winning author of more than 15 novels – including My Stubborn Heart, the Porter Family series, the Bradford Sisters series, and the Misty River Romance series – was inducted into the Christy Hall of Fame, an honor bestowed on authors who win four or more Christy Awards. Her novel "True to You" won the Book of the Year honor in 2018.  Prior Christy Hall of Fame honorees include Cathy Golke, Tamera Alexander, Steven James, James Rubart, Chris Fabry, Lynn Austin, Davis Bunn, and Karen Hancock.
The Christy Award program is supported by media partner Christianity Today, distribution partner Ingram/Spring Arbor, and retail partners that include ChristianBook.com, The Parable Group, Baker Book House, NetGalley, Logos, Mardel, and More to Life (The Munce Group).
For more information about The Christy Award® program and to sign up for award and event updates for the 2023 season, visit TheChristyAward.com.
---
The Evangelical Christian Publishers Association (ECPA) is an international non-profit trade organization comprised of member companies that are involved in the publishing and distribution of Christian content worldwide. Since 1974, ECPA has strengthened Christian publishing by building networking, information, and advocacy opportunities within the industry and throughout multiple channels so that our members can more effectively produce and deliver transformational Christian content. ECPA.org
The Christy Award® is the foremost award honoring and promoting excellence in Christian fiction since 1999, and is named for Catherine Marshall's novel, Christy, which has sold over 10 million copies since its publication in 1967. ECPA assumed ownership and administration of the award in 2017 to focus and grow the unique opportunity of fiction in Christian publishing.
TheChristyAward.com FB ChristyAward TW @ChristyAward  IG @thechristyaward
Media Contacts:
Jeff Crosby, ECPA President & CEO, jcrosby@ecpa.org, 480-966-3998 ext. 101
Cindy Carter, ECPA Awards & Recognition Manager, ccarter@ecpa.org, 480-966-3998 ext. 103