For Immediate Release — November 8, 2018

Nine titles win Christy Awards; honored as best Christian Fiction of the Year
"True to You" wins Christy Award Book of the Year
Author Chris Fabry inducted in Christy Award Hall of Fame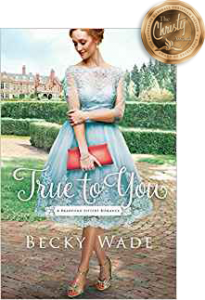 NASHVILLE, TENN., NOVEMBER 8, 2018 – Last night, the winners of The Christy Award™ were announced at the Christy Award Gala held in Nashville's Shamblin Theatre at Lipscomb University, amid nearly 200 authors, writers, publishers, and industry professionals who were in attendance to honor the year's best in Christian fiction.
Presented by the Evangelical Christian Publishers Association (ECPA), the 19th annual event was hosted by the genre's notable authors:  CHARLES MARTIN, FRANCINE RIVERS, CARLA LAUREANO, CYNTHIA RUCHTI, along with SARAH ARTHUR who gave an inspiring tribute to MADELEINE L'ENGLE on the 100th  anniversary of her birthday.
TRUE TO YOU by Becky Wade (Bethany House) was awarded top honors as the 2018 Christy Book of the Year.  The title also won in its category, Contemporary Romance.
The 2018 Christy Award winners by category are:                       
BOOK OF THE YEAR
True to You by Becky Wade
Bethany House/ Baker Publishing Group
CONTEMPORARY ROMANCE
True to You by Becky Wade
Bethany House/ Baker Publishing Group
FIRST NOVEL
Missing Isaac by Valerie Fraser Luesse
Revell/ Baker Publishing Group
GENERAL FICTION
Life After by Katie Ganshert
WaterBrook
HISTORICAL
Isaiah's Daughter by Mesu Andrews
WaterBrook
HISTORICAL ROMANCE
The Lacemaker by Laura Frantz
Revell/ Baker Publishing Group, 9780800726638
MYSTERY/SUSPENSE/THRILLER
The House on Foster Hill by Jaime Jo Wright
Bethany House/ Baker Publishing Group
SHORT FORM
12 Days at Bleakly Manor by Michelle Griep
Barbour Publishing
VISIONARY
The Man He Never Was by James Rubart
Thomas Nelson
YOUNG ADULT
The Delusion by Laura Gallier
Wander, a YA imprint of Tyndale House
"At a time when people are longing for stories of hope, The Christy Award honors those authors whose excellent work proclaims the essence of hope because they tell the truth about life," said ECPA president Stan Jantz. "Congratulations to those authors and their publishers whose novels were recognized for telling those stories especially well."
Also honored during the evening celebration, was five-time Christy Award winning author CHRIS FABRY, who was inducted into the Christy Award Hall of Fame for his legacy and contributions to Christian fiction.  He joins prior honorees Lynn Austin, Davis Bunn, and Karen Hancock in this highest author honor of the program.  All have won at least four Christy Awards.
The evening capped off two days of events that helped inspire, train and encourage those established in the publishing industry as well as those aspiring to break into the market as writers, authors, or business leaders:
ECPA PubU was held as a training and connection event for the Christian publishing professional.
The Art of Writing Conference was created to build community and explore the leading questions and pressing issues facing creators and curators.
For more information about The Christy Award™ program and to sign up for award and event updates for the 2019 season, go to www.ChristyAwards.com where complete information can be found.
###
The Evangelical Christian Publishers Association (ECPA) is an international non-profit trade organization comprised of member companies that are involved in the publishing and distribution of Christian content worldwide. Since 1974, ECPA has strengthened Christian publishing by building networking, information, and advocacy opportunities within the industry and throughout multiple channels so that our members can more effectively produce and deliver transformational Christian content. ECPA.org
The Christy Award™ is the foremost award honoring and promoting excellence in Christian fiction since 1999, and is named for Catherine Marshall's novel, "Christy," which has sold over 10 million copies since its publication in 1967. ECPA assumed ownership and administration of the award in 2017 to focus and grow the unique opportunity of fiction in Christian publishing. ChristyAwards.com
Media Contacts:
Stan Jantz, ECPA President & CEO, sjantz@ecpa.org, 480-966-3998 ext. 101
Cindy Carter, ECPA Awards & Recognition Manager, ccarter@ecpa.org, 480-966-3998 ext. 103