For Immediate Release — October 11, 2022

ECPA NAMES FINALISTS FOR THE CHRISTY AWARD® IN NINE CATEGORIES
30 titles announced as top contenders for the year's best Christian novels
Winners to be revealed at The Christy Award Gala held November 17 in Nashville; Seats still available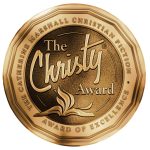 October 11, 2022, Tempe, AZ – Today, the ECPA announced 30 finalists for the THE CHRISTY AWARD® program in an online webcast hosted by Christy Hall of Fame author Chris Fabry and ECPA president Jeff Crosby.  The Christy Award® exists to celebrate excellence in the art of Christian fiction and to honor the power of faith in story.
Three finalists were named in nine categories, except for three ties in the Historical, Historical Romance and Speculative categories.  The finalists represent the work of 11 publishers, including 3 independent publishers.
The winners in each category – plus the Christy Book of the Year — will be announced on November 17 at a special Dinner Gala held at The Shinn Center at Lipscomb University in Nashville, Tennessee.  The 2021 Christy Book of the Year® author AMANDA COX (The Edge of Belonging) will be the featured speaker that evening, which will also include Christy Hall of Fame inductee BECKY WADE (Stay With Me), and bestselling novelist and radio host CHRIS FABRY (Dogwood) as emcee.
The formal dinner will also include tribute to the literary contributions of JAN KARON, the New York Times bestselling author of 23 books including The Mitford Series novels. Karon will address the evening's attendees via video as she is unable to attend the occasion.  Authors SARAH LOUDIN THOMAS (who directs The Mitford Museum) and AMANDA DYKES will present tributes.
The evening will also debut the AMPLIFY AWARD to honor the program's best novel which amplifies a multiethnic perspective.
Registration is open for the Winners Gala and the preceding Art of Writing conference at TheChristyAward.com.  Bundle rates are available for the two events with the first 100 registered automatically entered to win a complete set of Jan Karon's Mitford series, including a signed copy of At Home In Mitford.
"It was with great joy that I joined with Chris Fabry to announce the 2022 finalists for these prestigious awards," stated ECPA president Jeff Crosby. "Stories told powerfully, truthfully, and artfully have the ability to sneak up on us, stay with us, and change us!  I congratulate each of the authors whose work has become a finalist and look forward to November when we gather in person to learn the ten recipients of this year's awards."
The FINALISTS in the nine fiction categories are:
CONTEMPORARY ROMANCE
All That Really Matters, Nicole Deese
Bethany House/ Baker Publishing Group, 9780764234965
Bookshop by the Sea, Denise Hunter
Thomas Nelson Publishers, 9780785240471
Husband Auditions, Angela Ruth Strong
Kregel Publications, 9780825447105
---
FIRST NOVEL
All That Is Secret, Patricia Raybon
Tyndale House Publishers, 9781496458384
Recorder, Cathy McCrumb
Enclave Publishing, a division of Oasis Family Media, 9781621841999
Sugar Birds, Cheryl Grey Bostrom
She Writes Press, 9781647420680
---
GENERAL FICTION
The Letter Keeper, Charles Martin
Thomas Nelson Publishers, 9780785230953
The Secret Keepers of Old Depot Grocery, Amanda Cox
Revell/ Baker Publishing Group, 9780800737412
Under the Magnolias, T. I. Lowe
Tyndale House Publishers, 9781496453617
---
HISTORICAL – tie
Between the Wild Branches, Connilyn Cossette
Bethany House/ Baker Publishing Group, 9780764234354
Drawn by The Current, Jocelyn Green
Bethany House/ Baker Publishing Group, 9780764233326
The Widows of Champagne, Renee Ryan
Love Inspired, 9781335427076
Yours is the Night, Amanda Dykes
Bethany House/ Baker Publishing Group, 9780764232688
---
HISTORICAL ROMANCE – tie
As Dawn Breaks, Kate Breslin
Bethany House/ Baker Publishing Group, 9780764237485
Hope Between the Pages, Pepper Basham
Barbour Publishing, 9781643528267
Shadows of Swanford Abbey, Julie Klassen
Bethany House/ Baker Publishing Group, 9780764234248
Until Leaves Fall in Paris, Sarah Sundin
Revell/ Baker Publishing Group, 9780800736378
---
MYSTERY/SUSPENSE/THRILLER
Aftermath, Terri Blackstock
Thomas Nelson Publishers, 9780310345978
The Barrister and the Letter of Marque, Todd M. Johnson
Bethany House/ Baker Publishing Group, 9780764212369
On the Cliffs of Foxglove Manor, Jaime Jo Wright
Bethany House/ Baker Publishing Group, 9780764233906
---
SHORT FORM
A Texas Christmas Carol (in Under the Texas Mistletoe), Karen Witemeyer
Bethany House/ Baker Publishing Group, 9780764239311
Mr. Nicholas: A Magical Christmas Tale, Christopher de Vinck
Paraclete Press, 9781640607354
False Pretense, Heather Day Gilbert
WoodHaven Press, 9781735565163
---
SPECULATIVE – tie
A Time to Seek, Tracy Higley
Stonewater Books LLC, 9781737057901
Dark Intercept, Brian Andrews & Jeffrey Wilson
Tyndale House Publishers, 9781496451354
Recorder, Cathy McCrumb
Enclave Publishing, a division of Oasis Family Media, 9781621841999
Windward Shore, Sharon Hinck
Enclave Publishing, a division of Oasis Family Media, 9781621841678
---
YOUNG ADULT
A Gently Tyranny, Jess Corban
Wander, an imprint of Tyndale House Publishers, 9781496448347
Realms of Light, Sandra Fernandez Rhoads
Enclave Publishing, a division of Oasis Family Media, 9781621841647
Shadow, Kara Swanson
Enclave Publishing, a division of Oasis Family Media, 9781621841739
---
Leading up to the Winners Gala on November 17, will be the sixth annual Art of Writing conference.  The four-session conference that afternoon will bring together writers, creatives, and publishing curators for training and connection around these topics:
When Weary & Discouraged: How We Can Care for Our Writing Souls with author CAROLYN WEBER, whose debut book Surprised by Oxford, is being made into a feature film
To Tok or Not to Tok with reel pros EMILIE HANEY (pen name Bell Renshaw) and author/ podcaster KRISTI ANN HUNTER
How Reading Diverse Books Makes Us Better Authors and Humans with a panel of writers, agents, and publishers who share their own stories and best practices through this approach:  EDWINA PERKINS (Iron Stream), DEBORAH GONZALES (NavPress), DORENA WILLIAMSON (author), JEVON BOLDEN (Embolden Media) and JEFF CROSBY (ECPA)
What Makes a Gush-Worthy Book with book reviewer CARRIE SCHMIDT, Revell senior acquisitions editor KELSEY BOWEN, author and agent CYNTHIA RUCHTI, and WaterBrook editor JAMIE LAPEYROLERIE
Bundle pricing for the Gala and the conference is $139.  Registration and area hotels are posted at: ECPA.org/event/AOWChristyGala2022. (For publishers attending ECPA PubU the day prior, the Art of Writing conference is included in registration, along with other programming options.)
Finalist covers are posted at ChristyAwards.com/finalists-winners.html and will soon be featured in an e-blast for CT Women as part of Christianity Today's media support.
The program receives widespread support and promotion from these promotional partners, retailers, and sponsors:  ACFW, American Christian Writers, Bookworm Mama, Chris Fabry Live, Christian Editors network, Christian Writers retreats, Crazy4Fiction, Faithfully Bookish, Family Fiction, Jerry Jenkins, Just Read Tours, Life Is Story, Reading Is My Superpower, Baker Book House, Christianbook.com, Mardel, More to Life, NetGalley, Parable Group, Ingram/Spring Arbor, Christianity Today, and Bethany Press.
For more information and to register, visit TheChristyAward.com.
---
ECPA (Evangelical Christian Publishers Association) is an international non-profit trade organization comprised of member companies that are involved in the publishing and distribution of Christian content worldwide. Since 1974, ECPA has strengthened Christian publishing by building networking, information, and advocacy opportunities within the industry and throughout multiple channels so that our members can more effectively produce and deliver transformational Christian content. ECPA.org
The Christy Award® is the foremost award honoring and promoting excellence in Christian fiction since 1999, and is named for Catherine Marshall's novel, Christy, which has sold over 10 million copies since its publication in 1967. ECPA assumed ownership and administration of the award in 2017 to focus and grow the unique opportunity of fiction in Christian publishing.  TheChristyAward.com  FB ChristyAward  TW @ChristyAward  IG @thechristyaward
Media contacts:
Jeff Crosby, ECPA President and CEO, jcrosby@ecpa.org, 480-966-3998 ext. 101
Cindy Carter, ECPA Awards & Recognition Manager, ccarter@ecpa.org, 480-966-3998 ext. 103