For Immediate Release — September 19, 2019

ECPA ANNOUNCES THE 2019 FINALISTS FOR THE CHRISTY AWARD®
A record 30 Christian fiction titles in nine categories named as top contenders for the year's best – with three ties
Winners to be revealed at The Christy Award Gala on November 6th in Nashville at program featuring bestselling authors PATTI CALLAHAN, JAMES RUBART, BECKY WADE – and a tribute to the legacy of JANETTE OKE in inspirational fiction.
Gala preceded by afternoon Art of Writing Conference led by top authors and publishers including LYSA TERKEURST, JAMES RUBART, ANNE BOGEL, and more!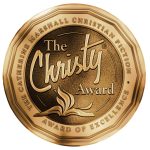 September 19, 2019, Tempe, Ariz. – Today, ECPA (the Evangelical Christian Publishers Association) announces 30 finalists in nine categories for the 20th annual THE CHRISTY AWARD® program.  There were three ties.  The Christy Award® exists to celebrate excellence in the art of Christian Fiction and to honor the power of faith in story.
Winners will be announced at The Christy Award Gala, to be held the evening of Wednesday, November 6th in the new George Shinn Event Center at Lipscomb University in Nashville, Tennessee.  The semi-formal dinner event will feature bestselling authors – who are also finalists this year – PATTI CALLAHAN (Becoming Mrs. Lewis) and Book of the Year winning author BECKY WADE (True to You, Falling for You).  The Gala will be hosted and emceed by bestselling author JAMES RUBART, who was the 2018 winner in visionary for The Man He Never Was.
The Christy Award Gala program will also include a special tribute to the legacy of JANETTE OKE – pioneer of inspirational fiction – in the 40th anniversary year of her seminal classic Love Comes Softly, which has sold more than 1.6 million copies and was made into one of the most watched series of the Hallmark Channel.  In 2020 Hallmark is renewing the seventh season of the When Calls the Heart television series, inspired by Janette's book series of the same name.  Her more than 70 novels have sold over 30 million copies and have been translated into 14 languages.
Tickets are on sale now for the Gala and the preceding Art of Writing Conference at a bundle rate of $119.
"The 30 Christy Award finalists represent the best in Christian fiction as determined by a panel of highly qualified judges," said ECPA president Stan Jantz. "ECPA is grateful to the publishers who submitted these titles, and we congratulate the 30 authors who are telling such compelling stories. We are excited about The Christy Award Gala and the Art of Writing conference, where so many writers and publishers will gather to celebrate the writing craft."
The Nominees for the best novels of the year in nine categories are:
CONTEMPORARY ROMANCE
Brunch at Bittersweet Cafe, Carla Laureano
Tyndale House Publishers, 9781496432704
Falling for You, Becky Wade
Bethany House/ Baker Publishing Group, 9780764219375
Wait For Me, Susan May Warren
Revell/ Baker Publishing Group, 9780800727482
---
FIRST NOVEL
The Baggage Handler, David Rawlings
Thomas Nelson, 9780785224938
Engraved on the Heart, Tara Johnson
Tyndale House Publishers, 9781496428318
The Plum Blooms in Winter, Linda Thompson
Mountain Brook Ink, 9781943959488
---
GENERAL FICTION
No One Ever Asked, Katie Ganshert
WaterBrook, 9781601429049
Send Down the Rain, Charles Martin
Thomas Nelson, 9780718084745
We Hope for Better Things, Erin Bartels
Revell/ Baker Publishing Group, 9780800734916
---
 HISTORICAL (tie)
A Rumored Fortune, Joanna Davidson Politano
Revell/ Baker Publishing Group, 9780800728731
Of Fire and Lions, Mesu Andrews
WaterBrook, 9780735291867
The Seamstress, Allison Pittman
Tyndale House Publishers, 9781496440181
Shelter of the Most High, Connilyn Cossette
Bethany House/ Baker Publishing Group, 9780764219870
---
HISTORICAL ROMANCE
A Defense of Honor, Kristi Ann Hunter
Bethany House/ Baker Publishing Group, 9780764230752
Becoming Mrs. Lewis, Patti Callahan
Thomas Nelson, 9780785224501
With this Pledge, Tamera Alexander
Thomas Nelson, 9780718081836
---
MYSTERY/SUSPENSE/THRILLER
Called to Protect, Lynette Eason
Revell/ Baker Publishing Group, 9780800727031 
Every Wicked Man, Steven James
Berkley, an imprint of Penguin Random House, 9781101991596
Mind Games, Nancy Mehl
Bethany House/ Baker Publishing Group, 9780764231841
---
SHORT FORM (tie)
A Shot at Love (The Christmas Heirloom), Sarah Loudin Thomas
Bethany House/ Baker Publishing Group, 9781493417094
Catching Christmas, Terri Blackstock
Thomas Nelson, 9780310351726
Falling for Grace, Janet W. Ferguson
Southern Sun Press (Janet Ferguson), 9780997658781
Legacy of Love (The Christmas Heirloom), Kristi Ann Hunter
Bethany House/ Baker Publishing Group, 9781493417094
---
VISIONARY (tie)
Mark of the Raven, Morgan L. Busse
Bethany House/ Baker Publishing Group, 9780764232220
Shivering World, Kathy Tyers
Enclave Publishing, 9781683701552
The Story Peddler, Lindsay A. Franklin
Enclave Publishing, 9781683701361
The Wounded Shadow, Patrick W. Carr
Bethany House/ Baker Publishing Group, 9780764213489 
---
 YOUNG ADULT
The Crescent Stone, Matt Mikalatos
Wander, a YA imprint of Tyndale House Publishers, 9781496431707
Fawkes, Nadine Brandes
Thomas Nelson, 9780785217145
The Warrior Maiden, Melanie Dickerson
Thomas Nelson, 9780718074777
For the third year, ECPA will also host The Art of Writing Conference, held the afternoon of the Gala – from 1 to 5:30 pm – and featuring four intensive seminars for writers and publishers:
Reaching the Heart of Readers with LYSA TERKEURST, NYT bestselling author and president of Proverbs 31 ministries and COMPEL training
"Next-Level" Writing with JAMES RUBART, bestselling author and co-founder of Rubart Writing Academy
Casting Novel Characters Using the Enneagram with ANNE BOGEL, author (Reading People), blogger (Modern Mrs. Darcy) and podcast host (What Should I Read Next?)
Publishing Pros Share Their Secrets about Marketing with publishers Dave Schroeder (B&H), Michele Misiak (Revell), Amy Green (Bethany House), Steve Laube (Enclave), and Anne Bogel (author/podcaster/blogger)
Tickets for the Art of Writing conference and The Christy Award Gala are available for a special bundle price of only $119.  Each individual event tickets are $89.  Register at ChristyAwards.com.
Both events follow the industry's publisher program, ECPA PubU.  PubU attendees receive a special rate to these events via their PubU registration form.
View all the finalists and their covers at christyawards.com/finalists-winners.html.  For more information about the program, visit ChristyAwards.com or contact thechristyaward@ecpa.org.
---
About The Christy Award®
The Christy Award is the foremost award honoring and promoting excellence in Christian fiction since 1999, and is named for Catherine Marshall's novel, "Christy," which has sold over 10 million copies since its publication in 1967. ECPA assumed ownership and administration of the award in 2017 to focus and grow the unique opportunity of fiction in Christian publishing. ChristyAwards.com  @ChristyAward  facebook.com/ChristyAward  IG: thechristyaward
About ECPA
The Evangelical Christian Publishers Association (ECPA) is an international non-profit trade organization comprised of member companies that are involved in the publishing and distribution of Christian content worldwide. Since 1974, ECPA has strengthened Christian publishing by building networking, information, and advocacy opportunities within the industry and throughout multiple channels so that our members can more effectively produce and deliver transformational Christian content. ECPA.org  @ECPA  facebook.com/ECPA.org
Media contacts:
Stan Jantz, ECPA Executive Director, sjantz@ecpa.org, 480-966-3998 ext. 101
Cindy Carter, ECPA Awards & Recognition Manager, ccarter@ecpa.org, 480-966-3998 ext. 103