Immediate Release — July 18, 2018

2nd annual ART OF WRITING conference for writers and publishers will open with DONALD MILLER
Writer's Conference will precede THE CHRISTY AWARD™ GALA, celebrating Christian fiction and featuring FRANCINE RIVERS, CHARLES MARTIN, CARLA LAUREANO, and SARAH ARTHUR
$99 for both Conference and Gala, held November 7 at Lipscomb University, Nashville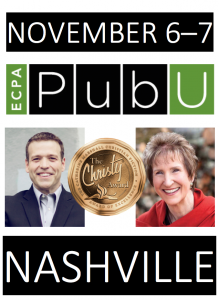 July 18, 2018, Tempe, AZ – The Evangelical Christian Publishers Association (ECPA) has announced the session topics and leaders for the second annual ART OF WRITING CONFERENCE.  This half-day event, held the afternoon of November 7, is designed to bring together writers, authors and publishing curators — and will feature intensive seminars that celebrate the creative life and provide practical tips for the challenges in this rapidly changing industry.
The opening session will share the closing session of the ECPA publisher event PubU,  and feature DONALD MILLER, CEO/founder of StoryBrand and New York Times bestselling author.  Other sessions will be led by respected authors Jerry Jenkins, Charles Martin, Carla Laureano, Sarah Arthur, Amy Green, Christian publishing executives, and more.
The Art of Writing will be held at Lipscomb University in Nashville and will precede the evening gala of THE CHRISTY AWARDS™ where the year's winning Christian novels will be announced at 7 pm in Lipscomb's Shamblin Theatre.  Registration is now open at www.ChristyAwards.com. 
ECPA is honoring last year's introductory bundle rate of $99 to attend both events.  Individual event tickets are available for $69 each.
"We launched the Art of Writing conference in 2017 to provide writers and publishers with practical tools to help them get better at their craft," says Stan Jantz, ECPA president. "With so many renown authors and experts already on board, there's no question the 2018 Art of Writing Conference will be even stronger and more valuable."
Sessions are curated by Amy Green, senior fiction publicist at Bethany House Publishers. Green explains the philosophy of the conference:
"There are issues that everyone in the world of Christian fiction cares about, but for the most part, aspiring writers, established authors, editors, marketers, agents, and other professionals discuss these issues in their own small groups. What I love about The Art of Writing Conference is that it enables all of us to gather together in person and have conversations about big picture issues in the industry. We can learn so much from others' unique perspectives."
The four afternoon Art of Writing Conference sessions are:
How StoryBrand Inspires Publishers and Writers with Donald Miller
Donald Miller is the CEO of StoryBrand and every year helps more than 3,000 leaders clarify their message. Combined, Don's books have spent more than a year on the New York Times bestsellers list. His books include: Blue Like Jazz, A Million Miles in a Thousand Years, and Scary Close. Don is widely considered one of the most entertaining and informative speakers in the world. His audiences are challenged to lean into their own story, creatively develop and execute the story of their team, and understand the story of their customers so they can serve them with passion. Don's thoughts on story have deeply influenced leaders and teams for Pantene, Ford/Lincoln, Zaxby's, Chick-fil-A, Steelcase, Intel, Prime Lending and thousands more.
Difficult Topics, Happily Ever After, and Hope with authors Jerry Jenkins, Charles Martin and Carla Laureano
This panel of authors will share their thoughts on how to connect effectively with today's reader. Are there any topics that turn audiences away? How do you deal with negative feedback from readers…or editors? What are the best ways to include spiritual truth without seeming heavy-handed or preachy? Our panel of experts will give specific, practical advice from their varying perspectives.'
Mythbusters: Publishing Edition with Bethany House senior fiction publicist Amy Green and a panel of Christian publishing executives
With all the confusing—and sometimes conflicting—advice about writing careers and publishing, it's sometimes hard to know what to believe. We've polled editorial and marketing staff at large and small Christian publishing companies to get their thoughts on ten common questions submitted by authors at all points in their career. This session will take you through the data and sort myth from fact, along with a detailed handout breaking down information about everything from publisher etiquette to sales trends to the future of the genre as a whole.
Learning from the Masters with Sarah Arthur
Sarah is the author of the forthcoming spiritual memoir of Madeline L'Engle "A Light So Lovely," founding member of the C.S. Lewis Festival, and former writer-in-residence for the Frederick Buechner Writers Workshop at Princeton Theological Seminary
Have you ever wondered how to make your stories stand out or develop the "fresh and original" voice editors are always looking for? Sometimes to create something new, you have to return to something old. This session will give practical tips to contemporary writers by examining classical fiction, answering questions like, "What about these timeless characters captured our imagination?" and "How did these authors weave beautiful redemptive truths into their writing so seamlessly?" By joining with the great Christian creatives who have gone before us, authors can add depth to their stories and celebrate where Christian fiction is going next.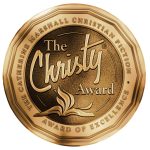 Following the Art of Writing Conference, attendees will have time to mingle and build community with other authors, editors, and industry leaders before the 19th annual CHRISTY AWARDS GALA.  The awards program will begin at 7:00 pm, and will be hosted by New York Times bestselling author Francine Rivers, 2017 Book of the Year winning author Charles Martin, RITA award winner Carla Laureano, and the author of the upcoming spiritual memoir of Madeline L'Engle, Sarah Arthur.
For more information, to register, or sign up for program updates, visit www.ChristyAwards.com or email christyawards@ecpa.org. 
---
The Evangelical Christian Publishers Association (ECPA) is an international non-profit trade organization comprised of member companies that are involved in the publishing and distribution of Christian content worldwide. Since 1974, ECPA has strengthened Christian publishing by building networking, information, and advocacy opportunities within the industry and throughout multiple channels so that our members can more effectively produce and deliver transformational Christian content. ECPA.org
The Christy Award™ is the foremost award honoring and promoting excellence in Christian fiction since 1999, and is named for Catherine Marshall's novel, Christy, which has sold over 10 million copies since its publication in 1967. ECPA assumed ownership and administration of the award in 2017 to focus and grow the unique opportunity of fiction in Christian publishing. ChristyAwards.com  facebook.com/ChristyAward  @ChristyAward
Media contacts:
Stan Jantz, ECPA Executive Director, sjantz@ecpa.org, 480-966-3998 ext. 101
Cindy Carter, ECPA Awards & Recognition Manager, ccarter@ecpa.org, 480-966-3998 ext. 103