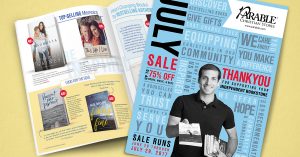 (June 6, 2017) – To support the successful health and growth of independent brick-and-mortar retailers in the Christian industry, HarperCollins Christian Publishing (HCCP) and The Parable Group have deepened their relationship in recent months giving retailers an added boost.
Randy Ross, Sales and Marketing Specialist for The Parable Group said, "In the aftermath of Family Christian Stores closures, we're delighted to see several publishers extending additional support and fresh collaborative ideas to help independent Christian retailers thrive. HarperCollins Christian, in particular, is stepping up in unprecedented ways."
Not only is HarperCollins Christian Publishing supporting nearly 90% of The Parable Group Summer Catalog which celebrates "independents" and shopping local, HCCP also provided postage for stores to mail deeper into their customer list. All participating stores increased their catalog distribution, and 10 stores added the summer promotion due to HCCP's generosity.
"Summer is typically a slower time for retail, but this summer promotion should reinvigorate sales and traffic with tremendous savings on bestselling Thomas Nelson and Zondervan titles," said Ross.
Additionally, HarperCollins Christian funded a graduation postcard program to drive church traffic to Christian retail this year. The Parable Group sent over 8,000 postcards to churches and schools on behalf of participating retailers—HCCP covered the printing, postage and bulk buy offer on select grad titles.
"Christian retail is the backbone of our industry," said Dan VanGorp, Director of Independent Retail for HarperCollins Christian Publishers. "Retailers work hard every day to balance the ministry and business aspects of their stores. We consider it a great privilege to come alongside these retailers, who are committed to growing the Kingdom of God, through the resources that we're able to provide. We don't take that relationship for granted."=
To view the digital version of The Parable Group Summer Catalog, click here.
The Parable Group is a privately owned multi-service Christian marketing agency based in San Luis Obispo, CA. Since 1985, we've served over 1,000 Christian brands; including retailers, publishers, churches, non-profits, film studios and more. Today, we pair decades of Christian consumer data with proven business practices, cutting-edge digital technologies, and thoughtful design to drive measurable results for those we serve. As CBA's exclusive data warehouse partner, we also safeguard Cross:Scan data to help unite and improve the Christian products industry. For more information, contact sally.ross@parable.com or visit www.parablegroup.com.
The world's leading Christian publisher, HarperCollins Christian Publishing Inc., comprises both Thomas Nelson and Zondervan publishing groups in addition to Olive Tree Bible Software. The Company produces bestselling Bibles, inspirational books, academic resources, curriculum, audio and digital content for the Christian market space. Also home to BibleGateway.com, the world's largest Christian website, and FaithGateway.com, an online community dedicated to helping people grow in their faith. HarperCollins Christian Publishing is headquartered in Nashville, TN with additional offices in the U.S., Mexico and Brazil. For more information visit www.HarperCollinsChristian.com.
Contact: Sally Ross
Tel. (805) 543-2644 x590  Email: sally.ross@parable.com