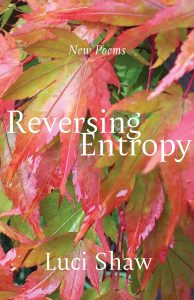 May 2, 2023 —Iron Pen Poetry, an imprint of Paraclete Press, is pleased to announce the Spring 2024 publication of Reversing Entropy: Poems by Luci Shaw (ISBN 978-1-64060-870-2 | Pub date April 4, 2024 | Trade paperback, French flaps | 5.5X8.5 | 112 pages | $21).
The poet's own words best describe the heart of this pinnacle collection of new work:
PROLOGUE: REVERSING ENTROPY (Definition and Description)
Entropy: A measure of the molecular disorder, or randomness, of a system, its lack of order or predictability, resulting in a gradual decline into disorder.
Our universe, and the systems within it, constantly shift from their created states of order towards disorder, or chaos. The second law of thermodynamics asserts that entropy, or disorder, always increases with time. Creative human activities such as art, architecture, music, story or film are human efforts to halt and reverse this loss of meaning. Thus, smaller systems, like individual poems, become highly ordered as they receive energy from outside themselves, from the poet. They reverse entropy because they are moving from a state of disorder (all the random ideas, words and phrases available to the writer) into an orderly form designed by the writer to create meaningful images and concepts in the reader's mind (which is where the word "imag-ination" comes from.) This transfer of images, concepts and ideas into the mind of a reader is the task of poetry and the calling of the poet. Just as a composer of music gathers rhythms, notes, melodies, or harmony, organizing them into fugues or sonatas or concertos, so poets work and write to discover ways of arranging their responses to the world in words that introduce meaning and beauty in the mind of the reader.
Which is what I've been trying to do for most of my life.
As ECPA prepares to honor Luci Shaw with the Kenneth N. Taylor Lifetime Achievement Award at their Leadership Summit on May 9, Iron Pen Poetry and Paraclete Press are privileged to present this forthcoming collection.
---
Praise for Reversing Entropy: Poems by Luci Shaw 
"Most essentially—in a life that chooses energy over entropy—Luci Shaw celebrates creatures, creatives, and the Creator, vowing "to live like the cedar tree in the psalm/….to never/let the years hinder my going and my growing." May it be so. Reversing Entropy astutely mentors us for a thriving and enduring life." —Marjorie Maddox, author of Begin with a Question
"How often [Luci] has reminded us that what "seems mundane and trivial may show itself to be a holy, precious part of a pattern," I think of the poems of Gerard Manley Hopkins when I enter her poems. How often she has captured the light shining in and through the things of our world, her scintillant music transforming what is there before us, there in the stars and at our feet in the sand and pebbles and motes around us. With her photographer's trained eye she humbly reveals again and again the incredible abundance of God's plentitude. And for that gift, so gracefully and abundantly bestowed, I thank and praise her." —Paul Mariani
"Reversing Entropy incarnates what Luci Shaw's long life gives record to: that all things are transformed, from leaf to dirt, from lost words to new poem; from shadow to light. For her the order of the universe is the re-ordering of disorder. As in the past, so these newest poems are almost preternaturally attuned to the changes and always changing natural world—the slow growth of lichens; the quick migrating flights of starlings. Luci Shaw's poems and life have been lived in faithfulness to the gift of the world around us, a gift intimately connected to the gift of words, to the making and remaking that goes on and on. She is a woman utterly open to the annunciations of starlight, to the "music" of fragrant lilies of the valley, to the exuberance of spring green leaf-light. She has lived her life according to one abiding principle: let wherever you find yourself be a place of opportunity rather than disappointment. These new poems exemplify what it means to be present, to live in a state of readiness for whatever comes next." —Robert Cording
"Those who love Luci Shaw's earlier poems will find in these a familiar, welcoming openness to the light that shines from every leaf and the voice that speaks in wind. In these her attentiveness to the created order extends to other dimensions of awareness—of her own longings and losses, of the scope of small pleasures, of how acceptance gentles the challenges of aging and of the learning that happens in moments of letting go. Images and words linger long after putting the book down and widen like ripples on waters disturbed by a soft breeze." —Marilyn McEntyre, author of Caring for Words in a Culture of Lies, When Poets Pray, and Speaking Peace in a Climate of Conflict
"In Reversing Entropy, Luci Shaw takes a stand with eternity against the passing of mortal time. In poems that by turn lament and accept the evening of her many days, she is able to feel "the dark at its deepest" while remaining her "flush, fresh, living" self. She makes me hope that all of us, as we age and slow, will still be "like kids waiting / to go outside for recess." There, on that far playground, "shadow will be consumed by the wide mouth of light."" —Paul J. Willis, author of Somewhere to Follow
"Luci Shaw in Reversing Entropy, her new book of luminous poems, confronts chaos and plague, indeed, old age and death, and rolls them back on themselves, discovering when she does that "beauty will not be / always dimmed, no matter how long it waits." Throughout the lyrical collection, Shaw "[p]airs the antonyms/energy and entropy," as she tries to recapture each "lost word," recognizes she's "never been this old before," and grieves the loss of her only sibling whose "jagged narrative of a life" is "a cold meal . . . flavored with bitter herbs." In so doing, she explores the lichen's underworld, mountain trails, whales and weeds, even a Sequoia "thick as God's arm," so that with her, we can see how "[g]reen/gushes from every notch and knot" and "sunlight winks its enchantment." In reflecting upon all that she has weathered, Shaw's signature voice invites us to feel the "torn tissues / ragged blemishes" of "[f]ailures" and "regrets," yet pin our hope on the "gleaming fabric of / metaphors" and the "tenacious / truths . . . that will not fade like breath on a / mirror." How can we possibly say no?" —Julie L. Moore, author of Full Worm Moon
"Luci Shaw is the patron saint of wonder. She writes of needing to be there, in creation, like a journalist taking field notes. And we need her to be there, too, "holding all the world-loveliness…by pinning it in print on paper." Of all the loveliness she's captured, over many decades, this might be her best collection yet." —Sarah Arthur, author of A Light So Lovely: The Spiritual Legacy of Madeleine L'Engle
For interviews or review copies, contact:
Publicist Rachel McKendree at rachelm@paracletepress.com, (508) 246-4700