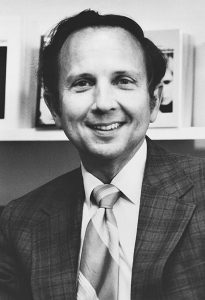 March 2023 | James F. Nyquist, a foundational figure in the development of InterVarsity Press (IVP), passed away on Friday, February 17, 2023. Nyquist served as IVP's director from 1964 to 1983.
"Jim Nyquist was a skilled manager with an entrepreneurial spirit who guided IVP for twenty years from a shoestring operation to a significant voice in Christian publishing," said Andy Le Peau, a long-time associate publisher for editorial at IVP, where he worked for over forty years. "He also mentored dozens of other publishers around the world, helping lay the foundation for the robust international Christian book trade we see today in many Majority World countries. But he was so much more. He both dreamed and faced challenges with the same unwavering confidence in the goodness of God. His faith, insight, and good cheer are a legacy that lives on."
According to Heart. Soul. Mind. Strength: A Narrative History of InterVarsity Press, 1947–2022 written by Le Peau and Linda Doll, IVP grew twenty-one times in sales during Nyquist's time as the press's director. He also started the Press-O-Matic in 1966, which was later called the IVP Book Club and continues to be the longest-running book club specifically for Christians. Nyquist is also credited for obtaining rights for Francis Schaeffer's first two books, The God Who Is There and Escape from Reason. And in 1983 Nyquist appointed Doll as director of IVP. Le Peau and Doll wrote, "The appointment evidenced InterVarsity's commitment to women as equal partners in the ministry at a time when there were virtually no women executives in Christian publishing."
Nyquist began his career with InterVarsity Christian Fellowship (IVCF) in 1949, after serving as an InterVarsity chapter leader at the University of Minnesota. The standard staff employment term at the time was three years, but Nyquist refused and insisted on only a one-year commitment—which turned into a lifetime of service with IVCF in a variety of capacities. Doll and Le Peau wrote, "Jim Nyquist, a man committed to prayer and Scripture, was endowed with seemingly boundless optimism about what God was doing and could do. Those who worked with him admired and respected him greatly."
Rebecca Manley Pippert, author of the IVP landmark title Out of the Saltshaker and Into the World: Evangelism as a Way of Life, said, "I first met Jim when he told me IVP wanted to publish Out of the Saltshaker. I was then twenty-seven years old, and from that point on Jim and his wife, Ruth, became dear friends and beloved mentors and ultimately honorary grandparents to my children. Jim's tireless contribution to the publishing world—along with his vitality, joy, wisdom, and utter faithfulness to God—had a profound impact on my life and to all who knew him."
Nyquist served in many capacities for IVCF before taking on his role at InterVarsity Press. He was a regional director beginning in 1950, and camp director at Campus in the Woods north of Toronto (1952–1957) and Bear Trap Ranch just west of Colorado Springs (1958–1967). In 1963 he left his position as director of the Central Region to assist Charles Troutman, general director of IVCF. Nyquist served as director of IVP (along with other assignments) from late 1964 until 1983, when, as a vice president, he supervised both the literature division and all departments in the national office in Madison, other than the field, until his retirement in 1985.
In addition to is work at IVP, Nyquist traveled the world when he took on responsibilities as International Fellowship of Evangelical Students (IFES) literature secretary in the mid-1970s, a position he held for more than twenty years. He consulted with the national sister movements of InterVarsity around the world, encouraging and advising them in their publishing efforts in many different countries. Le Peau and Doll wrote, "Nyquist was much beloved, appreciated and respected around the world for his efforts and his cultural sensitivity."
Cindy Bunch, current IVP vice president, editorial, said, "During my years at IVP I have been privileged to get to know Jim Nyquist as well as his wife, Ruth. Jim continued to be active in the work of IFES for many years past his official retirement and was particularly interested in making sure our books made their way around the world—both in English and in translation. He always asked me how he could pray for my work, and I have taken much encouragement from those prayers."
Doll and Le Peau wrote that Nyquist was the person who turned IVP from a small literature distribution service to a major evangelical publisher with an impact many times its size. "He placed a premium on finding strong, qualified people and then setting them free to do the work. He also augmented IVP's fiscal conservatism with a willingness to take calculated risks for the sake of ministry," they said. "Not all proved to be long-term successes, but that fact created an atmosphere where there was freedom to fail. In addition, many of these initiatives continued to serve InterVarsity and the wider church for decades. Growth for the sake of growth was never his goal. Expanding the reach of Christ's kingdom was always foremost."
Contact: Krista Clayton | 630.734.4013 | kclayton@ivpress.com