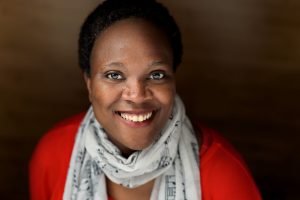 WESTMONT, IL—InterVarsity Press (IVP) has announced that Nilwona Nowlin will serve as its new associate editor.
Cindy Bunch, IVP Vice President, Editorial, said, "Nilwona Nowlin comes to IVP with strong recommendations from several of our authors. Her breadth of ministry experience, professional training, and wide networks will be an asset to IVP. But most of all her pastoral heart will guide her as she mentors authors through the publishing process. I am looking forward to having her on the IVP team."
Nowlin holds a master of divinity and a master of arts in Christian formation from North Park Theological Seminary in Chicago. She also has a master's degree in nonprofit administration from North Park University. Most recently Nowlin has served as a contract chaplain for Rush University Medical Center in Chicago. She has also worked at North Park Seminary and for the Evangelical Covenant Church. Nowlin is a member of Redbud Writers Guild and serves on the board of the Christian Community Development Association (CCDA).
Nowlin frequently preaches at churches in the Chicago area and has been a speaker at Duke Youth Academy, Christians for Biblical Equality (CBE) International, Deeply Rooted Chicago, and a number of other conferences. She has also given a TEDx Talk at North Park University. Nowlin has written for CCDA, Covenant Companion, Christianity Today, the Evangelical Covenant Church, and Redbud Writers Guild.
Nowlin describes herself in this way: "I am a redemptive artist, which means that I use my creative abilities to move others toward redemption, restoration, and reconciliation with the goal of helping individuals and communities around the world experience God's shalom. Areas of interest include leadership development, community development, intercultural competence, and helping others discover and pursue their God-given purpose."
Serving in her new associate editor role, Nowlin will be attending both the CCDA Conference November 2 to 5 in Charlotte, North Carolina, and the Mosaix Conference November 8 to 10 in Dallas, Texas.
Visit Nowlin's website at nilwona.com, and follow her on Twitter: @nilwona.
Contact: Krista Clayton | 630.734.4013 | kclayton@ivpress.com