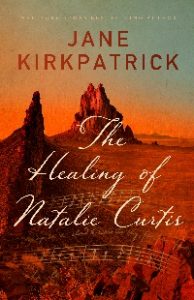 Ada, Mich. (August 9, 2022)—Revell, a division of Baker Publishing Group, is pleased to announce that The Healing of Natalie Curtis has been selected as a finalist in the 2022 WILLA Literary Awards for Historical Fiction.
Women Writing the West (WWW), which is a nonprofit association of writers and professionals who write and promote the Women's West, underwrites and presents the nationally recognized award on an annual basis. The WILLA Literary Award acknowledges "the best in literature, featuring women's or girl's stories set in the North American West." Awards will be presented at the WWW Conference in Oklahoma City, Oklahoma on October 20-22.
The Healing of Natalie Curtis by Jane Kirkpatrick (Revell; ISBN 9780800736132; Ebook 9781493431786; $16.99) Musician Natalie Curtis is broken by strict training and a lost love. After encountering Native American music, she is determined to save these ancient songs which are being silenced by the government. In doing so, Natalie steps inside the space between the notes to discover something she'd forgotten—music powerful enough to heal. Based on a true story.
Jane Kirkpatrick is the New York Times and CBA bestselling and award-winning author of 40 books, including The Healing of Natalie Curtis, Something Worth Doing, One More River to Cross, Everything She Didn't Say, All Together in One Place, A Light in the Wilderness, The Memory Weaver, This Road We Traveled, and A Sweetness to the Soul, which won the prestigious Wrangler Award from the Western Heritage Center. Her works have won the WILLA Literary Award, the Carol Award for Historical Fiction, and the 2016 Will Rogers Gold Medallion Award. Jane divides her time between Central Oregon and California. Learn more at www.jkbooks.com.
Revell, a division of Baker Publishing Group, publishes books that help bring the Christian faith to everyday life. Whether through fiction, Christian living, self-help, marriage, family, or youth books, each Revell publication reflects relevance, integrity, and excellence.
Contact: Karen Steele, (616)676-9185 x100, ksteele@bakerpublishinggroup.com