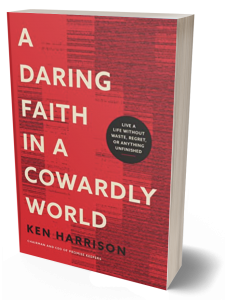 Chicago, IL – Christian Leadership Alliance (CLA) will present Promise Keepers Chairman Ken Harrison with the 2023 CLA Book of the Year Award at its Outcomes Conference this week in Chicago. The award recognizes Harrison's June 2022 release, A Daring Faith in a Cowardly World: Live a Life Without Waste, Regret or Anything Unfinished, published by Thomas Nelson Publishers.
"We're pleased to recognize A Daring Faith in a Cowardly World," says Tami Heim, Christian Leadership Alliance President and CEO. "It's a clarion call to seize what has been entrusted to you. To learn how to stand strong and live fearlessly God's best plan for your life and His kingdom purpose."
The Outcomes Conference 2023, with the theme of "Entrusted", seeks to equip and unite courageous leaders who are committed to transforming the world for Christ. Harrison, as the volunteer chairman of Promise Keepers, works to inspire men to be bold, faithful and godly fathers and husbands. He is also the CEO of WaterStone, which helps Christian donors give away $2 million weekly for God's Kingdom.
An author and speaker who has appeared on dozens of national media outlets, including "Dr. James Dobson's Family Talk," The 700 Club, Fox News, The Blaze TV, OANN and The Huckabee Show and with a long record of dedicated service to ministry, Harrison has preached in high-risk areas of countries such as Mexico, South Africa, Haiti, and the Philippines.
Before his ministry work, Harrison spent his early career as a Los Angeles police officer and later built a successful commercial real estate business, which he eventually sold to the second largest commercial real estate company in the world. He has also served on numerous local and national boards, including FCA, Colorado Uplift, Urban Youth Ministries, Corban University and WaterStone.
Harrison will serve as a main stage presenter at this year's Outcomes Conference, taking place March 28-30 in Chicago.
To connect with Ken Harrison, contact: Jason Jones, Jones Literary, jason@jonesliterary.com, 512.720.2996