New book offers wisdom and relatable stories to help women discover their purpose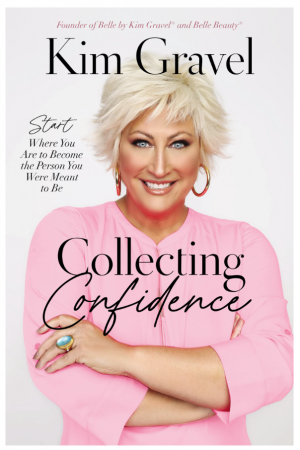 MAY 10, 2023 — Confidence coach and QVC host Kim Gravel is now a bestselling author, as Collecting Confidence: Start Where You Are to Become the Person You Were Meant to Be (Thomas Nelson) claims the No. 9 spot on The Wall Street Journal bestseller list during its first week of eligibility.
Collecting Confidence showcases the confidence Gravel has gathered from her own life journey. The book invites readers to examine their lives with a fresh new lens and encourages them to start where they are and become the person God created them to be. In Collecting Confidence, Gravel reminds you that you are not your current circumstance. You are not your current habits. Where you are right now is, in fact, simply your starting place to become who you're meant to be and find God's calling for your life.
Collecting Confidence has been received with critical acclaim. Publishers Weekly named it a bestseller, ranking #8 for Hardcover Nonfiction, and SRQ Magazine reviews it by saying, "I found myself copying the handful of pages with larger quotes to give to women I know, who also struggle with being undervalued and consequently self-limiting. Her slogans were not only catchy, but deeply effective due to their provocative deep thought resonance."
"If you've lost your way and forgotten who God made you, this book will equip you to glean empowerment from life's lowest moments," Gravel says. "You'll start to change your perspective to realize mistakes can be stepping stones."
Kim's passion is seeing people rise to their God-given calling. She wrote the book to encourage women to realize who they are, embrace their gifts and talents, the things they like to do and do well – and then learn to operate and walk in confidence.
The book is available everywhere books are sold.
About The Author:  
Bold. Audacious. Warm. Funny. Real. These are just a few words that describe Kim Gravel, entrepreneur, podcaster, TV personality, and host of several number-one hit shows on QVC. The minute she says, "Hey, ya'll," you can feel her authentic personality shining through–but she felt pressure to conform for a stretch of her life. She hid her light and lost her shine.
In the aftermath of the pressures of the pageant scene and a toxic failed marriage, Kim found herself alone in a run-down apartment, and it was there that she began her journey to change her life and she began to discover her purpose, including her first gig as a talk-show host at a community TV station just a few blocks from her apartment. Her purpose was just steps away.
Now Kim's mission as a global voice is to build up women with words of encouragement, reminding them to stop struggling, embrace the beauty of who they are, and step into their power and purpose.