Warrior Mother: Equipping Your Heart to Fight for Your Families Faith
"A precious, hard-won, battle-tested companion for Christian mothers who seek to stand in their God-given authority."
-Quantrilla Ard, PhD, author, speaker, and podcaster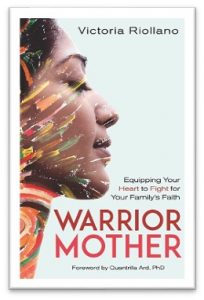 GRAND RAPIDS, Mich.—It's not easy raising faithful kids in the world today— parents often don't know what to do – so what if mothers started with their own hearts? In her new release Warrior Mother: Equipping Your Heart to Fight for Your Families Faith,  Victoria Riollano has written more than just another book on parenting, she has written the ultimate guidebook on being the warrior mother your children need. Riollano shows moms how to first seek their own spiritual transformation, then pass that along to their children. Moms will love her authentic examples,  and the sharing of her life, plus she has an educational background in child and adolescent psychology. Warrior Mother will quickly become the book they go back to time and time again at all stages of their kids' lives— but more importantly, their own.
From the very first chapter, where she talks about an enemy that will stop at nothing to destroy, she starts to equip mothers with everything they need to be the first line of defense in the lives of their children. Warrior Mother, isn't written to make moms feel good about their parenting, but it is the ultimate guide to challenge, motivate and  empower mothers who are out in the field every day.
"I could not be more excited about the release of Warrior Mother! I believe every mother should know that she is enough, and that God is with her as she faces the emotional and spiritual battles of parenting. My heart is that this book will equip mothers to show up to their parenting journey with confidence and complete reliance on Christ!."
Warrior Mother is full of impactful and powerful information to equip mothers for the times we are in. Riollano ends each chapter with Victory Verses, Reflections, and a Power Prayer, so readers can take away a tool from every chapter. No matter what phase a mother in from infants to children all grown up, Warrior Mother is the tool that will help them go to their own source, Jesus, in order to guide and equip their children every day.
Victoria Riollano is a military mom of seven who holds an MA in child and adolescent psychology. She is professor of psychology at three universities, as well as co-pastor and church planter. Her writing has been featured on Crosswalk, iBelieve, the YouVersion Bible app, and Christianity Today. Learn more about Victoria at victoryspeaks.org.
Warrior Mother
Kregel Publications
ISBN13: 978-0825447686
April 2023, Softcover
256 pages, $18.99
Media Contact: Jeane Wynn, 918-630-9695, Jeane@TallOak.Media