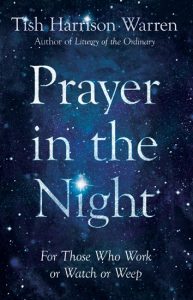 WESTMONT, IL—Christianity Today has announced its 2022 Book Award winners and has named Prayer in the Night by Tish Harrison Warren the CT Book of the Year and the recipient of the Beautiful Orthodoxy Award.
The Book of the Year honor is Warren's second Beautiful Orthodoxy Award. Her first book, Liturgy of the Ordinary¸ was also chosen as the top title for the 2018 CT Book Awards. Framed around one ordinary day, Liturgy of the Ordinary explores daily life through the lens of liturgy, small practices, and habits that form us. Prayer in the Night: For Those Who Work or Watch or Weep centers around a nighttime prayer of Compline and explores human vulnerability, suffering, and God's seeming absence as Warren recalls her own experience navigating a time of doubt and loss.
"Prayer in the Night was an important book for me when I read it while sheltering in place in late March of 2020," said Warren's editor, Cindy Bunch, IVP Vice President, Editorial. "Tish Harrison Warren's reflections on what it means to reckon with our human vulnerability are both profound and prophetic for such a time as this. I am grateful that she points us to the way in which liturgy sustains and upholds us through the darkest of times. Despite its deep dive into the darkness, her narrative thread and beautiful prose make this book an enjoyable read. Struggle is never far from the human experience. I believe that this book will offer hope to many generations of readers who find themselves praying in the night."
Warren is a weekly contributing newsletter writer for the New York Times and writes a monthly column for Christianity Today. She has worked in ministry settings for over a decade as a campus minister with InterVarsity Graduate and Faculty Ministries and as the writer-in-residence at Church of the Ascension in Pittsburgh, Pennsylvania. Her articles and essays have appeared in the New York Times, Religion News Service, Christianity Today, Comment Magazine, the Point, and elsewhere.
James Bryan Smith, author of The Good and Beautiful Series, said, "Good writers, Frederick Buechner once told me, 'pay attention to their lives.' By this standard, Tish Harrison Warren is a very good writer indeed. She tells stories from her own life—sometimes commonplace, sometimes heartbreaking—with great detail, and even greater insight. Using the brilliant, time-tested words found in Compline, a service of evening prayers used before sleep, as her outline, this well-written and deeply honest book will inspire you to begin using these prayers in your own life. It did for me. Reading this book was like having a meaningful conversation with a friend over a crackling fire and having a clear sense that you are the better for having engaged in it. Tish is far too young to be this wise. I am grateful for her life, for her searching faith, and I am very grateful for this special book."
Four additional IVP titles received 2022 CT Book Awards of Merit. Justin Paul Lawrence, IVP's Vice President, Sales and Marketing, said, "I am pleased to see IVP continue its long history of thought leadership in areas such as Politics and Public Life with We the Fallen People and Culture and Arts with Reading the Times. It's even more pleasing when we can be recognized in such crowded spaces as Church/Pastoral Leadership with Winsome Conviction or Theology/Ethics with The Doctrine of Creation. These works are stars that light the way for the church to understand the way of Jesus better each day."
Culture and the Arts Award of Merit
Reading the Times: A Literary and Theological Inquiry into the News by Jeffrey Bilbro invites readers to take a step back and gain some theological and historical perspective on the nature and very purpose of news. Bilbro reflects on how we pay attention, how we discern the nature of time and history, and how we form communities through what we read and discuss.
"There may not be any greater need in this moment—for both the church and the larger culture—than a practical theology of the news," said Karen Swallow Prior, author of On Reading Well. "Reading the Times is a book that addresses a discipleship crisis of our day. It may be a generation too late, but it's not a moment too soon."
---
Politics and Public Life Award of Merit
We the Fallen People: The Founders and the Future of American Democracy by Robert Tracy McKenzie presents a close look at the ideas of human nature to be found in the history of American democratic thought, from the nation's Founders through the Jacksonian Era and Alexis de Tocqueville. 
John Fea, professor of history at Messiah College and author of Was America Founded as a Christian Nation?, said, "In the spirit of Reinhold Niebuhr, Tracy McKenzie places original sin at the center of American political history. We the Fallen People weaves American history, historical thinking, and public theology into a compelling narrative that forces readers to rethink the meaning of our democratic experiment.
---
Church/Pastoral Leadership Award of Merit
Winsome Conviction: Disagreeing Without Dividing the Church by Tim Muehlhoff and Richard Langer offers a guide to help Christians navigate disagreements with one another. In today's polarized context, Christians often have committed, biblical rationales for very different positions. How do we discern between core biblical convictions and secondary issues? How do we cultivate better understanding and compassion for those we disagree with? Muehlhoff and Langer provide lessons from conflict theory and church history on how to avoid the dangers of groupthink and how to negotiate differing biblical convictions to avoid church splits and repair interpersonal ruptures.
"This book could help us turn this world right-side up with meaningful conversations filled with kindness, grace, truth, and welcome," said Sharon A. Hersh, licensed professional counselor and author of Belonging. "If you're tired of debating and the ensuing division, here's an alternative to change the conversation!"
Planting a Church Without Losing Your Soul: Nine Questions for the Spiritually Formed Pastor by Tim Morey was one of the finalists in the Church/Pastoral Leadership category. Featuring real-life stories from leaders plus practices and discussion questions, this book is a practical guide to spiritual formation geared to the unique needs of church planters and teams.
---
Theology/Ethics Award of Merit
The Doctrine of Creation: A Constructive Kuyperian Approach by Bruce Riley Ashford and Craig G. Bartholomew develop the Kuyperian tradition's rich resources on creation for systematic theology and the life of the church today.
Jessica Joustra, of Redeemer University, said, "Here is a faithfully Reformed yet distinctly contemporary work on the doctrine of creation. It is a welcome addition to the badly needed, and now happily emerging, literature applying the giants of the neo-Calvinist tradition to issues of doctrine for the English-speaking world. But it is no sleepy doctrinal tome. This is a book of theology that answers questions the church is actually asking. Widely read, richly cited, and ecumenically minded, Ashford and Bartholomew mine the Reformed tradition at its best and place its treasures before the church and the academy to correct, challenge, and continue our work in the theater of God's glory."
For a complete list of award winners visit ivpress.com/award-winners.