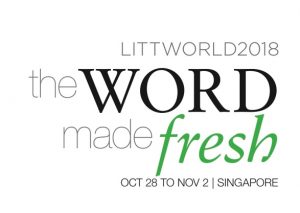 (Carol Stream, Illinois, USA) MAI is pleased to announce LittWorld 2018 will again take place in Singapore, October 28 to November 2, 2018. "The world of publishing is changing, but the one constant is the need for excellent content," MAI President John Maust said.  "At LittWorld 2018, global publishers and writers will look at fresh new ways to help today's readers see and apply the power of the Bible in their everyday lives and to know the Word made flesh."
Every three years, MAI convenes LittWorld, the only international conference of its kind, providing intensive training on strategic, publishing-related topics. More than 40 international publishing professionals will lead plenary sessions, small group workshops, devotionals and one-on-one consultations giving fresh vision and skills for heightened effectiveness.  The schedule also features ample time for networking and relationship-building. The last conference in 2015 gathered 278 Christian publishing staff and writers from 50 countries.
Bernice Lee, chair of the local host committee, says: "It is a great privilege and joy to be able to welcome you back to Singapore again. We had so much fun hosting the last Littworld in 2015 that we jumped at the opportunity to host it again. So many life-changing connections were made in the world of Christian publishing at our last Littworld, with new publishing houses birthed and cross-border collaborations begun. We are looking forward to so much more!"
Men and women from 94 countries have participated in the conference since it began in 1986. Through LittWorld, MAI has seen publishing houses born, new books conceived, and skills refined for more effective publishing. Inevitably, participants take away a new or reinforced commitment to publish books and articles by local authors in the heart language and culture of readers.
"I live where very few books are available and people generally don't like to read. Sometimes it seems that developing literacy and nurturing authors is a vain endeavor," wrote Jane of Tajikistan (not her real name due to security concerns). "At LittWorld 2015 I met many successful writers who have impacted their countries. I am inspired to continue raising up local authors, but also to share the Word of God with the next generation."
Further details and registration will be available soon at littworld.org. For more information, email mai@littworld.org or call (630) 260-9063.

ABOUT MAI: Since our founding in 1985, MAI has advanced the Gospel by equipping local Christian publishers, editors and writers in 79 countries on 5 continents. These trainings have resulted in more locally published Christian books and articles written in the heart language and culture of the intended reader. littworld.org