K-LOVE Books is honored to announce that "The Bible for Me: Bible Stories & Prayers" has earned the prestigious Mom's Choice Award®. Having been rigorously evaluated by a panel of MCA evaluators, "The Bible for Me" is deemed to be among the best products / services for families.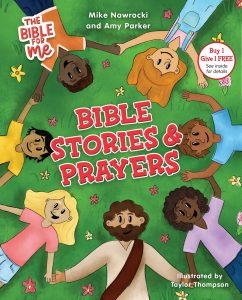 NASHVILLE, Tenn. (October 21, 2022) – The Mom's Choice Awards® has named "The Bible for Me" as among the best in family-friendly media, products and services. The MCA evaluation process uses a proprietary methodology in which entries are scored on a number of elements including production quality, design, educational value, entertainment value, originality, appeal, and cost.
"We are thrilled to be a Mom's Choice Gold Winner," writes co-authors Mike Nawrocki and Amy Parker. "We know all the great things the MCA does to connect consumers, educators, and caregivers with the best products and services available for families."
To be considered for an award, each entrant submits five (5) identical samples for testing. Entries are matched to evaluators in the MCA database. Evaluators are bound by a strict code of ethics not only to ensure objectivity, but also to ensure that the evaluation is free from manufacturer influence. The five evaluations are submitted to the MCA Executive Committee for final review and approval.
"Our aim is to introduce families and educators to best-in-class products and services," explains Dawn Matheson, Executive Director of the Mom's Choice Awards. "We have a passion to help families grow emotionally, physically and spiritually. Parents and educators know that products and services bearing our seal of approval are high-quality and also a great value. The MCA evaluation program is designed to incorporate the expertise of scientists, physicians and other specialists; but we also engage parents, children, educators, and caregivers because they are experts in knowing what is best for their families."
With the evaluation now complete, the testing samples of The Bible for Me will be donated to schools, libraries, hospitals and nonprofit organizations.
This notable accomplishment comes on the heels of several successful author events including a book signing at the Summer 2022 Christian Product Expo in Lexington, KY and an event at Christian Publishers Outlet in Murfreesboro, TN, on October 7, 2022.
K-LOVE Books has partnered with nonprofits to get the books into the hands of children and families in need. "Our donors have been a huge part of making that happen," says publisher Dave Schroeder. "We've distributed 20,000 copies thus far to The Salvation Army and 5,000 to Convoy of Hope (with 10,000 more before Christmas)."
AUTHORS:  Mike Nawrocki (co-creator of VeggieTales® and voice of Larry the Cucumber; author of The Dead Sea Squirrels series) and Amy Parker (author of the Night Night series) have shared Bible stories with tens of millions of children through their books and videos. They are co-hosts of the popular The Bible for Kids Podcast and co-authors of "The Bible for Me: Bible Stories and Prayers" (February 2022, K-LOVE Books).
K-LOVE BOOKS is an imprint of EMF Publishing. Educational Media Foundation (EMF) is the parent organization of K-LOVE and Air1 radio and the AccessMore podcast network.
Media Contact: Ashley Harris, ashley.harris@dexteritycollective.co
The Bible for Kids – Bible Stories & Prayers
Written by Mike Nawrocki and Amy Parker
Illustrated by Taylor Thompson
https://www.klove.com/books/bible-stories-and-prayers
Available February 22, 2022, from K-LOVE Books
Hardcover: ISBN 978-1-954201-21-7, 352 pages, 6" x 7" trim, U.S. $19.95
eBook: ISBN 978-1-954201-22-4, U.S. $9.99
Audiobook: ISBN 978-1-954201-23-1, U.S. $24.95 (March 2022)
Review copies and author interviews are available upon request.
Contact Ashley Harris: 757-251-8552, ashley.harris@dexteritycollective.co