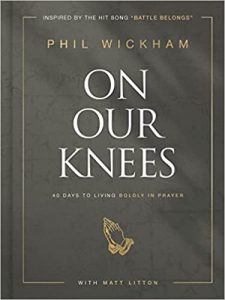 Franklin, Tenn. (April 10, 2023) – K-LOVE Books, an imprint of EMF Publishing, is proud to announce that two of its titles have been selected as finalists in Evangelical Christian Publishers Association (ECPA)'s Christian Book Awards: "On Our Knees" by Phil Wickham (September 2022) and "Behind the Lights" by Helen Smallbone (April 2022). ECPA announced the finalists in 12 categories for the 2023 Christian Book Award® program on April 6th. These are the first finalists for K-LOVE Books since the imprint began in 2021.
Inspired by his song "Battle Belongs," Dove-award-winner and Grammy-nominated worship leader Phil Wickham, along with Matt Litton, aims to help readers rediscover the joy, power and intimacy of prayer in "On Our Knees: 40 Days to Living Boldly in Prayer."
In her debut memoir "Behind the Lights: The Extraordinary Adventure of a Mum and Her Family," Helen Smallbone, mother of seven creative children―including top Christian music artists for KING & COUNTRY and Rebecca St. James―chronicles the family's journey of faith across the ocean to go where God was leading. Written from a mother's perspective, Smallbone shares stories of peaks, valleys and a family trusting God for provision. Their family story will soon be told in a feature motion picture, releasing in theaters within the next year.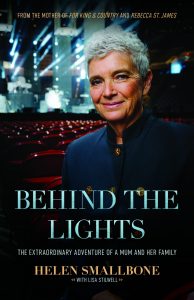 "Prayer and courageous faith–the themes of these beautiful books have impacted many and helped readers to have a deeper understanding of the heart of God and what He wants for His people," said Dave Schroeder, Publisher of K-LOVE Books. "These books have been a powerful representation of how God uses story, music and prayer to change lives. It is an honor for ECPA to recognize what God has been doing through Phil and Helen."
ECPA's Christian Book Award® program recognizes the highest quality in Christian books and Bibles and is among the oldest and most prestigious awards programs in the religious publishing industry. Presented annually to the finest in Christian publishing since 1978, the Christian Book Award® program honors the "best of the year" in 12 categories. The winners in each category, along with the 2023 Christian Book of the Year®, will be announced at the ECPA Awards Celebration, held Tuesday evening May 9th in Nashville, during the ECPA Leadership Summit, amidst an audience of Christian publishing executives, managers, and industry guests.
ABOUT K-LOVE BOOKS:
K-LOVE Books, an imprint of EMF Publishing, has published bestselling books such as "The Way of the Father" by Michael W. Smith, "Out of the Dark" by Mandisa, and most recently "On Our Knees" by Phil Wickham and "Believe for It" by CeCe Winans. Educational Media Foundation (EMF) is the parent organization of K-LOVE and Air1 radio and the AccessMore podcast network.