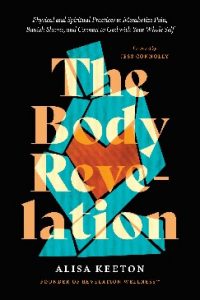 Carol Stream, Ill. (February 9, 2023) — Tyndale Refresh, an imprint of Tyndale House Publishers (@tyndalehouse), will release The Body Revelation in June 2023, the latest book from Alisa Keeton, founder of Revelation Wellness and host of the popular podcast by the same name.
Research suggests that the emotional and relational pain we've lived through has a profound negative physical effect on our bodies. Fitness professional Alisa Keeton proposes that the reverse is also true: What we do with our bodies can have a dramatic positive effect on our emotions, relationships, and connection with God. In The Body Revelation, she shows readers how to use their bodies as a means of healing past pain to promote physical, emotional, and spiritual health.
Commenting on this important new release, acquisitions manager Kara Leonino shared, "In The Body Revelation, Alisa Keeton, a highly trusted and sought-after voice in the wellness space, details what it means to transform our pain so that we can live healthy and whole. We are thrilled to partner with her on this book that brings a vitally important message—of healing in order to be set free—to the world."
In the book's foreword, Jess Connolly, author of Breaking Free from Body Shame and You Are the Girl for the Job, says, "Maybe you've tried—maybe you've even had some success at—making healthier choices but still feel stuck. Alisa will show you how to partner with your body to begin processing the pain that has kept you trapped. She will teach you how to move your body and quiet your mind in ways that will bring lasting healing and better health. God is going to use this book to change your life."
In addition to Connolly, endorsers of The Body Revelation include bestselling author, speaker, and podcast host Lisa Whittle; singer-songwriter JJ Heller; and Jamie Ivey, bestselling author and host of The Happy Hour with Jamie Ivey podcast, who said, "No one in my life has encouraged me more in my journey with my body than Alisa. She has continually pointed me to the things that are true about my body and the One who created it. She has helped me see that God created me as a whole person—body, mind, spirit—and that all three need my attention."
Alisa Keeton is a wholehearted pursuer of God's love in heart, mind, soul, and strength. A fitness profes­sional for over 30 years, she is the founder of Revelation Wellness, a nonprofit ministry that uses physical and mental health practices to spread the gospel by inviting participants to become integrated and whole beings through biblical teachings, online events, productions, and in-person retreat experiences. Alisa is the author of The Wellness Revelation and Heir to the Crown and hosts the popular Revelation Wellness podcast with over seven million downloads. Alisa lives in Phoenix with her husband, Simon, and they have two children. As a family, they are on a mission to change the world with the kind and courageous love of God.
Alisa is represented by Illuminate Literary Agency.
For more information or an advanced reader copy of The Body Revelation, contact Amanda Woods, amandawoods@tyndale.com, 630-784-5125.
Since its founding in 1962, Tyndale House Publishers has been a voice to trust for generations of readers. Today, Tyndale is one of the largest independent Christian publishers in the world. Tyndale's mission is to make the Bible accessible to as many people as possible in language that they can relate and respond to. Tyndale publishes the Holy Bible, New Living Translation (NLT) and offers nonfiction books that equip readers with Christ-centered insight, counsel, and life-improving stories. In addition, Tyndale publishes fiction from fresh new voices and celebrated authors alike, capturing the imagination of millions of readers. With a deep understanding of the importance of nurturing future generations, Tyndale also publishes children's products that make God's Word and wisdom come alive. Tyndale's independent status allows it to follow its founding model, giving a substantial portion of annual revenue—millions of dollars per year—through corporate donations and the work of Tyndale House Foundation. With every book purchased, Tyndale readers help meet the physical and spiritual needs of people around the world.
Contact: Amanda Woods, amandawoods@tyndale.com, 630.784.5125