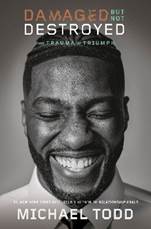 On October 3, 2023, WaterBrook will publish Damaged But Not Destroyed: From Trauma to Triumph, the third book from #1 New York Times bestselling Author and Pastor Michael Todd. Through perspective-shifting insights gained by overcoming his own significant challenges, Todd offers encouragement to anyone seeking to trade the pain of past mistakes and trauma for a healed and victorious life.
"When readers put this book down, I want them to be anchored in the truth, way down deep in their bones, that their contents—their spirit, their core, their eternal essence—was handcrafted with love and purpose by the Creator of the universe," said Todd.
"WaterBrook is thrilled and honored to be collaborating with Pastor Mike in bringing this powerful message of truth and transformation to readers," added Random House Christian Publishing's Executive Vice President and Publisher Tina Constable. "We feel this theme of finding our rightful value in God is especially needed in today's age when so many people are searching for hope. We are thankful for the overwhelming response to Pastor Mike's first two books, Crazy Faith and Relationship Goals, and we are so excited to be part of what God accomplishes through this next work."
Todd's books have sold more than a million copies since his publishing debut in 2020 with Relationship Goals and followed by Crazy Faith in 2021.
Michael Todd is the lead pastor of Transformation Church in Tulsa, Oklahoma, where he shares his passion of RE-presenting God to the lost and found for transformation in Christ with over 250,000 in attendance both in-person and online. With a 6.3M+ and growing social following, Todd speaks at a variety of influential churches, events, and conferences each year and has been featured on many prominent media outlets such as The Today Show, Fox & Friends, Forbes, Ebony, The 700 Club, and the Tamron Hall Show. Originally preached in April of 2017, his sermons for "Damaged But Not Destroyed" remain one of Todd's most popular, with more than 2 million views.
WaterBrook is an imprint of the Random House Group, a division of Penguin Random House LLC.