FOR "THE UNEXPECTED LIGHT OF THOMAS ALVA EDISON"
Appearing on FOX & Friends Tuesday, March 21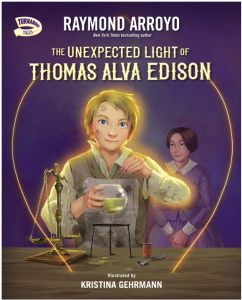 Grand Rapids, MI – March 20, 2023 – Zonderkidz is pleased to announce that New York Times bestselling author, broadcast journalist and producer Raymond Arroyo will be on tour for his new children's picture book series titled Turnabout Tales, with the first book arriving in stores on March 21, 2023, titled The Unexpected Light of Thomas Alva Edison.
Arroyo will appear at these locations for readings and book signings:
While the events are free and open to the public, a book purchase will be required to enter the signing line at each location. More information can be found at www.raymondarroyo.com.
The virtual "Live Signing" with Arroyo will take place for those fans who cannot travel and want to receive a copy of the signed book, on Tuesday, March 21, at 6:05pm ET. Fans can go to https://livesigning.com/unexpectedlight  to pre-order and submit questions to the author. Arroyo will appear on Facebook and speak to how the book came together, while signing copies for fans.
He will also appear on FOX & Friends the day of the book release, March 21.
Illustrated by Kristina Gehrmann, the book will be for children 4-8 and beyond who will enjoy learning how small moments and events in one's life can create a big change, much like Edison's life did.
Based on the younger years of inventor Thomas Alva Edison, the book highlights the support of his mother, Nancy Edison, who understood Thomas had a special curiosity and went on to school him at home to help expand his worldview and understanding of all things nature and science. Edison's curiosity often got him into trouble, but also led to his love of chemistry, the mechanics of the telegraph and more. His struggle with deafness at an early age also compelled him to become a compulsive reader. Edison's mother was his biggest advocate, and he opened up an "invention factory" in 1876 to honor her after her unexpected death.
The Turnabout Tales series will feature pivotal moments in other historic lives, each revealing  challenges faced, paths changed and history turned.  More books will be announced later in 2023.
"We often forget that talent is nurtured by love and belief. I was drawn to Edison when I read a comment where he attributed his entire career as an inventor to his mother," says Arroyo, host of the global news program The World Over Live on EWTN, and a FOX Contributor. "At a critical point, when he was tossed from school, it was Edison's mother who recognized his spark and changed the trajectory of his life.  My hope is that the whole series will inspire kids and their families to be open to the direction of their children's gifts and interests. Often it is by looking back that we can see the best way to go forward –and that's what I hope to do with Turnabout Tales."
The book includes an author note and bibliography for further reading. A Teaching Guide and Activity Guide will also be available for free download to parents and educators at www.zonderkidz.com.
"…the light of the invention within Tom might have never illuminated the world, had it not been for a mother who first saw the glow of curiosity in her Al." – The Unexpected Light of Thomas Alva Edison
Advance copies of the book and interviews are available upon request. Please contact Publicity Director Jessica Westra at jessica.westra@harpercollins.com or Velvet Kelm at velvet@mcollective.com for more information.
ABOUT THE BOOK:
The Unexpected Light of Thomas Alva Edison
By New York Times bestselling author Raymond Arroyo
Illustrated by Kristina Gehrmann
Hardcover w/Jacket, $17.99
9780310799238
March 21, 2023 On Sale
WHAT OTHERS ARE SAYING:
"This moving, hidden story of one of our great inventors, in Raymond Arroyo's skillful hands, becomes a lesson in the power of love and family.  This Turnabout Tale will touch any parent who has ever defended or encouraged their child and inspire any student who has been underestimated.  There's true light in this tale."
– Kathie Lee Gifford, Best-selling author and 4-time Emmy award winning entertainer
ABOUT THE AUTHOR:
Raymond Arroyo is an internationally known, award-winning journalist, producer, and New York Times bestselling author.  As a Fox News Contributor and Editorial Advisor to the top-rated, The Ingraham Angle, he has created the popular "Seen and Unseen" and "Friday Follies" segments that have become audience favorites.  He regularly files reports for FOX and appears across the network.
As founding News Director, Managing Editor and Lead Anchor for EWTN News, he is seen in more than 350 million homes on six continents each week and heard on more than 500 AM/FM affiliates and a stand alone Sirius channel throughout the U.S.  Arroyo established EWTN News and The World Over Live in 1996, which he hosts from Washington D.C. each week.
Five of his adult books, including his biography of Mother Angelica, were all New York Times bestsellers.  His first picture book, The Spider Who Saved Christmas, was also a New York Times bestseller.  Additionally, he is author of the bestselling Will Wilder series for young readers.  In 2015, Arroyo founded Storyented.com, a literacy initiative to inspire reading by connecting the world's great authors and their readers.  Arroyo resides in New Orleans and Washington D.C. with his wife Rebecca and their three children.
Zonderkidz™, the children's division of Zondervan, inspires young lives through imaginative, innovative and educational resources that represent a Christian worldview and build up God's children and teens. For additional information, please visit www.zonderkidz.com.
Zondervan is a world-leading Bible publisher and provider of Christian communications. Zondervan, as part of HarperCollins Christian Publishing, Inc., delivers transformational Christian experiences through its bestselling Bibles, books, curriculum, academic resources and digital products. The Company's products are sold worldwide and translated into nearly 200 languages. Zondervan's offices are located in Grand Rapids, Michigan. For additional information, please visit www.zondervan.com.
Media Contact:
Jessica Westra, Director of Publicity, Zonderkidz, Jessica.westra@harpercollins.com, 616.403.6628
Velvet Kelm, 615.476.9933