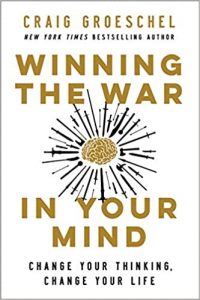 Zondervan Books, an imprint of HarperCollins Christian Publishing, is thrilled to announce a significant achievement for author Craig Groeschel with his groundbreaking book, Winning the War in Your Mind. The publication has reached a remarkable sales milestone, selling over 500,000 copies worldwide since its release.
Winning the War in Your Mind captivated readers with its profound insights and practical guidance for overcoming the battles that occur in the mind. Craig Groeschel's powerful message uses biblical truth to empower readers to take control of their thoughts and, with God's help, experience genuine transformation.
Since the tremendous success of Winning the War in Your Mind, Craig Groeschel has continued to inspire audiences with his recent publication of The Power to Change with Zondervan Books and Winning the War in Your Mind for Teens with Zonderkidz.\ 
"We are deeply grateful for the privilege of working with Craig Groeschel and his team. His wisdom, authenticity, and passion for helping others have made a profound impact on countless lives. We are thrilled by the extraordinary response to 'Winning the War in Your Mind,' and it is our hope that this book will continue to bring healing, hope, and lasting change to readers around the word."
– Webster Younce, Vice President and Publisher at Zondervan Books
Zondervan Books is proud to have played a significant role in bringing these life-changing books to readers worldwide. With its commitment to publishing impactful literature, Zondervan Books remains dedicated to nurturing authors like Craig Groeschel who draw on God's Word to help transform lives and make a lasting impact on society.
Zondervan is a HarperCollins Company and part of HarperCollins Christian Publishing. Zondervan is a world-leading publisher and provider of Christian communications. The company's products are sold worldwide and translated into nearly 200 languages. Zondervan offices are located in Grand Rapids, Mich. For additional information, please visit www.zondervan.com.
Contact: Devin Duke, Senior Publicity Manager, Zondervan Books, Devin.Duke@HarperCollins.com